Tighten Your Loose Loops of Yarn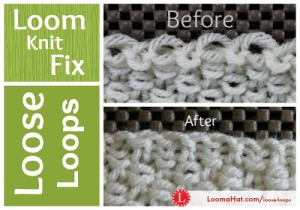 Loom knitting tends to leave a lot of loose loops especially if you knit with a large gauge loom like the Knifty Knitter or Boye. Here is an easy fix that will give you nice straight edges.
This was an issue that bothered me a lot when I first started. I sort of bumped into this solution then had to test it a few times before I felt comfortable enough to use the technique on stuff I really liked. It looks simple enough and it really is but there are times when the yarn tangles up before you reach the end.
I've included a short video tutorial. It's a whole 5 minutes. Watch it until the end. Any questions or comments help you and the other person that is afraid to ask. Puts those in the comment section.
Note: This technique DOES NOT work with all cast-on. Works best with the e-Wrap cast-on. Also it will reduce the stretch on your project a bit.
There are Just a Few Steps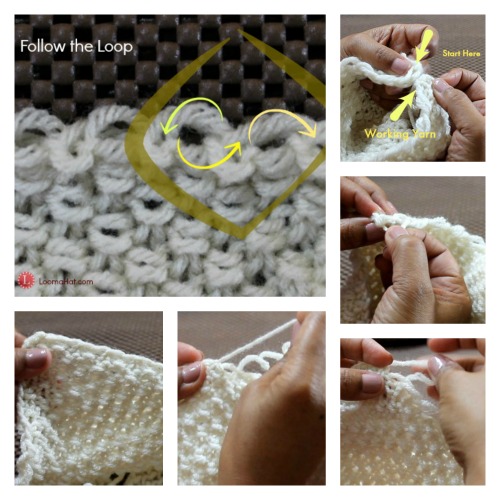 Follow the picture from Top Right – Then Down – Then Left 🙂 … just playing with your head to make sure you're awake and reading .
For a link to the stitch pattern : Click HERE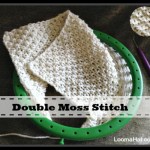 Six Steps to a Better Edge
1. Find the Working Yarn
2. Start at the Opposite End
3. Pull the First Loop – It Should Show You The Next String to Pull
4. Continue Pulling Until You Get Back to The Working Yarn
5. If Necessary Take The Knot (Slip Knot ) Off The Working Yarn
6. Pull The Last of the String
You're Done !
The Video: Tighten Loose Loops
Update: 3/2015
Some people are having a hard time finding the knot that needs to be undone at the end of the project. I got a picture from a reader. See it below. I have made a circle indicating where the knot is.
The slip knot – even if it's a loose knot will prevent that last pull. You will need to pull those two strings out to complete the last step in tightening up your loose loops. Because they "rest" under a loop if you pull them without taking them out from under those loops they will just create a tighter knot instead of allowing you to pull the working yarn.
Note: That this recommendation is made with the limits I have to visualize this project. The main point I want to make is that you need to find the slip knot. Unwind it then look for that last loop that the working yarn was feed through and pull it out.
Remember this technique DOES NOT work with all cast-on. Works best with the e-Wrap cast-on.
Hope that helps.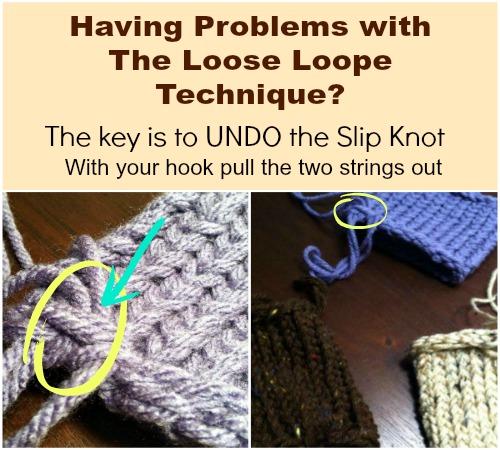 ====================================================================