Color Match Your Thread and Your Yarn
Color match thread to ANY yarn . It doesn't matter how crazy, custom or discontinued, there is thread that matches your yarn perfectly.
I was knitting my new doll pattern which calls for a tiny button on the top. I needed thread instead of yarn because the button holes were so tiny. Well the yarn was out of the question but I did want the thread used to sew the button to match the yarn exactly,
I discovered the perfect hack and you already have the supplies needed to accomplish this little trick.
Use Your Yarn to Match Thread Color
Most yarn is 2 or 4 ply. In my case almost 95.9% of the time my yarn is 4 ply. This makes the hack easy as pie. For those of you that don't know what a hack is, here is one definition: a quick solution that solves a problem.
Below are the steps.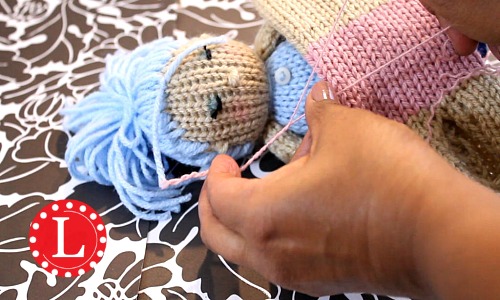 Take your yarn that you want to match and pull the 2 or 4 ply strands apart. This gives you a thread you can easily manage.
Thread your needle with your new matching thread
Done
Yarn used in feature pictures – Red Heart Super Saver – super cheap, lots and lots of great colors and it's 4-ply just like I like it.
Don't you just love it with the world is aligned perfectly and easily just for your needs. Yea !
Match Thread Color Video
Do you want to see it in video instead of pictures, check it out at below





Tagged: thread