Mens Knit Hat
A great Mens knit hat. The Parthenon, is a good-looking manly hat. Currently a Free loom knitting pattern on this site. It proves that classic and sporty can be worn at the same time on the same head. Only stitch skill needed is Knit and Purl.
I love ancient Greek architecture
especially the ones that include the Doric columns. Round top over strong straight columns. Simple but powerful looking, like the man you have in mind for this hat.
Try this one out, then come back with your comments and any questions. All are greatly appreciated.
The Parthenon Hat Pattern
Supplies
Click the image to buy any of the supplies listed here:
A Trick I Used
It's difficult for me to stay on track. I have mild ADD. Anything that pops into my head takes precedence over what ever I'm doing or suppose to be doing. I have to use tools that let me know where I left off.
I used these white replacement pegs to keep up with my pattern. I knitted on green and purled on white. Reversed when necessary.
I wrote a short article on these little guys: Click Here
Loom: I Used the Green 36-peg Knifty Knitter.
Yarn: I Used Red Heart Super Saver
– Worsted Weight  in Hunter Green
Stitches: Knit and Purl
Cast-On: Use two strands of yarn as one. Wrap all pegs tightly – Row 1 in the pattern is the cast-on.
Note: Use the Flat Knit Stitch on Row 1. You can use the e-Wrap knit stitch after that.
Long Brim
Row 1  Flat Knit
Row 2  Knit
Row 3  Purl
Row 4  Knit
Row 5 – 15  Knit 1 , Purl 4
Top of Hat
Row 16  Knit
Row 17  Knit
Row 18 – 30  Knit 4, Purl 1
Note: If you want a little slouch in hat Knit and Purl as many rows as needed to reach your length
Close the Hat
Row 31-33:  Knit 2, Purl 2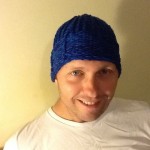 Here is Andrea McLeods
"A Beanie for Greg"
She did an awesome job! Love the color.
Thanks Andrea for sharing your work with us. Nothing like a live model to show off the end results of our creations.
.
Consider Donating Your Mens Knit Hat
This Hat is being donated to : Bridge and Beyond 
Other Organizations that will accept your Hats : Knitting Rays of Hope , Knit-a-Square
===========================================================================


Tagged: free patterns, hat, loom knitting