How to Make a Messy Bun Hat from ANY Hat Pattern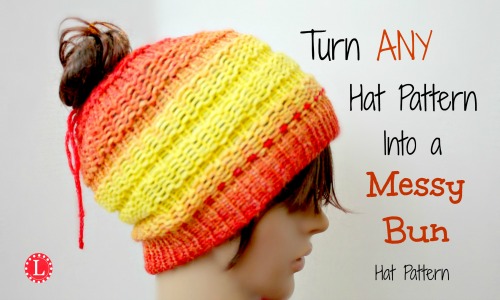 In this post I want to teach you how to turn your favorite hat pattern into a Messy Bun hat pattern. It's very easy and you don't need to learn a special technique you don't already know and you don't need to add anything extra to your list of supplies. As always there is a short and simple video tutorial to help us visual learners.
If you don't have a pattern in mind I will include a list of over 85 free patterns where you can choose one you like.
Messy Bun Bind-off Instructions
The trick to this is the bind-off /cast-off and not the rest of the pattern. So you can choose any hat pattern and it will work fin. If you don't already of one in mind – click the picture above for a listing.
Supplies: Scissors, Yarn Needle, 1 extra yard of working yarn.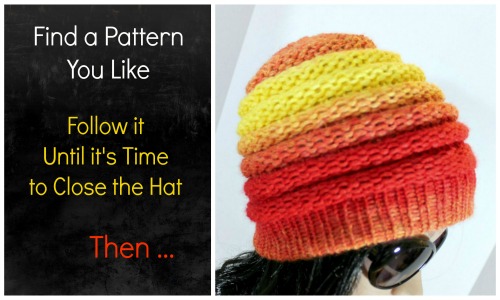 Step 1: As mentioned above choose a hat pattern.
Step 3: Follow it until it's time to close the hat.
Step 4: Don't do the suggested bind-off / cast-off – instead cut the yarn
Step 5: Pull on the last loop and with a crochet hook feed the yarn through the loop. Create a knot. Tighten the loop.
Step 6: Feed your crochet hook through the loop between the 1st and 2nd Peg. Feed you working yarn to make a knot.
Step 7: Weave-in the end
Step 8: Get new working yarn. Secure the yarn to the anchor peg. Wrap the working yarn around the loom 1 and 1/2 times. Cut the yarn.
Step 9: Thread a yarn needle. Feed the working yarn from the bottom of the peg through every loop.
Step 10: When you're finished feeding the yarn through all the loops remove the loops from the pegs.
Step 11: Pull the strings to even them out – cut the excess yarn.
Step 12: Make knots on the ends of the strings.
You Are Done !
For a List of Hats Click HERE or the Picture Below
How to Turn Any Hat Pattern into a Messy Bun Hat Video
.