Loom Knit Mock Crochet Infinity Scarf Pattern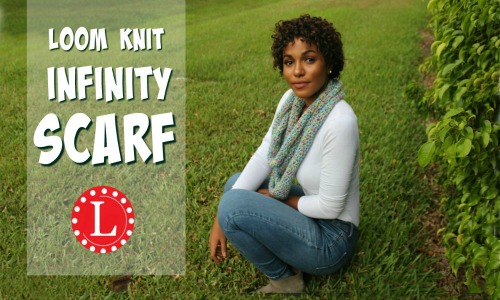 This loom knit infinity scarf pattern is easy and versatile. The technique seems complicate until I breakdown it down for you and then it's mindless knitting that you can do while you watch television or listen to your favorite music. As always there is a step by step video to help you with the pattern.
The open lace stitch allows you to make one that works just as good in spring as in winter with just a simple change in yarn weight. To use on warm nights use a light worsted weight yarn and for crisp winter mornings use a chunky or bulky.
Pattern Supply List
Loom: Any loom with at least 18 pegs. I used the CinDwood 24-peg loom.
Yarn: 250 Yards of worsted weight. I used the Caron Simply Soft in Tapestry.
Hook: Loom hook. I used the loom hook from my KB Adjustable Hat Loom
Marker: 1 stitch marker. I used 1 of my Etsy store Stitch Markers.
Downloadable PDF Pattern: Etsy store
The Mock Crochet Infinity Scarf Pattern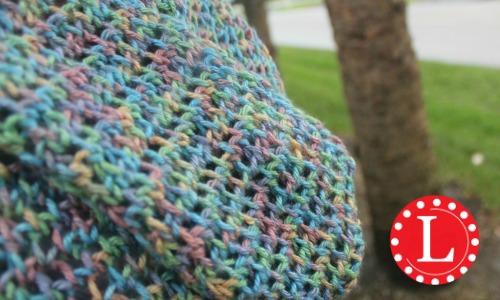 Stitches: Knit (eWrap, Uwrap, Flat)
Product size: Approximately 6×74 inches or 15×187 centimeters ( 3 rows per inch )
Cast-on:
eWrap 18 pegs
Uwrap Knit 1 row.
Scarf:
Always slip (skip) the first stitch.
Row 1: Skip peg 1, eWrap Knit peg 2, Go back to peg 1, Wrap and knit-off pegs 1, 2 and 3

Repeat row 1 until you reach the desired length. Approximately 3 rows per inch. I did about 190 rows.
Optional Before Joining the Ends:
Tighten the Cast-on
Weave in the Ends
Cast-off:
Modified Basic Bind-off
Join the Ends:
Remount the first row of stitches.
Knit-off all the pegs.
Cut the yarn.
Thread a yarn needle with the working yarn.
Feed the needle from the bottom of the loop on first peg then through the top of the loop on the next peg. Alternate until you finish with all the pegs. Pull off all the loops. Make a knot with the last loop.
The Mock Crochet Infinity Scarf Video
.

.
Tagged: 24-peg, infinity, infinity scarf, loom knit infinity scarf, loom knit scarf, scarf, scarves