The Mock Crochet Stitch on a Knitting Loom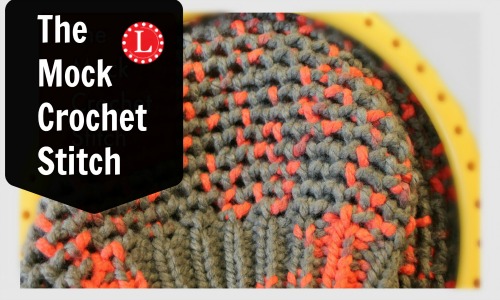 The Mock Crochet Stitch has a great texture and look. It is not an exact duplicate of a crochet stitch and that's okay with me because it's still beautiful and easy to do.
I remember being a bit confused the first time I read the instructions. Like many of you I learn better if I can "see" what I need to remember so I did a short video that shows you how to knit the Mock Crochet Stitch. If you prefer to read instructions I also did that and added some pictures.
I'm thankful that Tina Edgar created this awesome technique that we can now use to make all kinds of knitted art. Thank you Tina !
Instructions with Pictures: For the Mock Crochet Stitch

Note this is a 1 row stitch pattern that needs to be worked over 3 pegs
Step 1. Knit the first 2 pegs.
Keep in mind that from this point on where ever the working yarn is, that is Peg 2.
Step 2. Take the working yarn from the back to the front wrapping pegs 1, 2 and 3.
Using the Flat Knit Stitch
Step 3. Knit-off the three pegs.
Again, where the working yarn is, that is now Peg 2.
Repeat the process.
Funny Note: Although you knit 3 pegs at a time – you only move forward 1 peg.
To make a really cute hat with this simple stitch, get some chunky yarn, your hook, and you extra-large loom and click the picture below.
Video
This a short 4 min video. As always I suggest watching it before starting any project.
This is a stitch pattern so there is no cast-on or bind-off. If you want that information: Click HERE
Don't miss any of my videos: Click HERE
.
Tagged: stitches