Mock Mesh Stitch on a Knitting Loom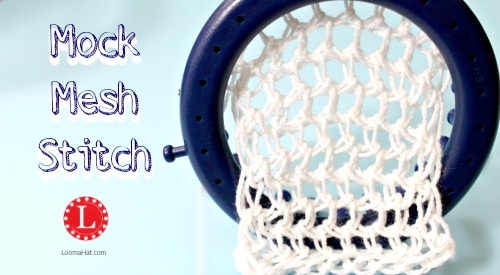 The Mock Mesh Stitch pattern is an easy lace stitch that is simple enough for beginners. It can be a bit tricky at first but once you get the concept you're on your way. As always this post includes text, pictures and a video tutorial.
During my research I came across a loom knit version by Suz from MemoirsYarnAholic.blogspot.com . She created her version of the stitch by starting the pattern like a mock crochet and then knitting every other stitch. I liked the idea but decided I would tweak the pattern and the name.
The Mock Mesh Stitch Step by Step Instructions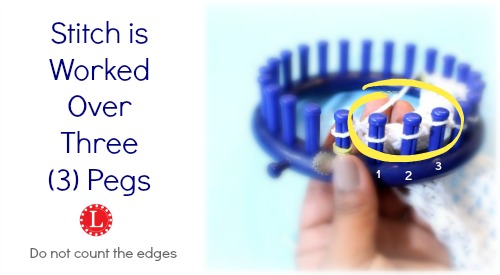 PATTERN NOTES:
To Purchase a Downloadable PDF: Click HERE
Consider Joining Patreon . For just $2 Get All Patterns Posted Each Month. For $5 also get a Downloadble Video: Click HERE
Flat Version
Multiple of 3 – Plus Edges
The way you start the pattern, your edges and your cast-off will depend on your project and so I won't go over that. If you're interested in what I do you can take a look at my post and video: HERE .
Remember you are not counting the edges.
OK Let's Start
Step 1: Knit Pegs 1 and 2 (only in the beginning)
Step 2: Go Back Wrap Peg 1
Step 3: Skip Peg 2
Step 4: Wrap Peg 3
Step 5: Knit-off Pegs 1 and 3
.
MORE PATTERN NOTES:
Peg 3 is now your new Peg 2. You will repeat the process starting with Step 2.
When you're ready to turn again you will start with step 1.
For a visual watch the video below or: Click HERE
.

.
See the Steps in Pictures
Video
As always I recommend watching the video completely from beginning to the very end and making a swatch before starting any project with this stitch pattern. Although very simple you don't want to get over-confident and mess up your favorite yarn. It's a short video watch it twice if necessary.
To subscribe to my YouTube channel: Click HERE
I always love to hear from you. Should you have any comments or questions you can leave those in the comment section below.