Modified Basic Bind Off for Loom Knit Edges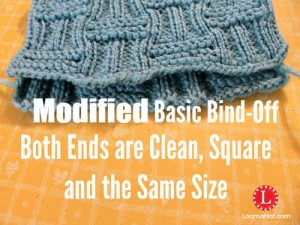 The basic bind-off just wasn't working for me. I kept getting one end that was wider and the other tighter regardless of the type of loom or yarn. It looked odd and I needed to find a better solution to a technique that was pretty good and seemed to work for other people but not me. I had seen someone add a crochet single stitch and I tried that. It was alright but left a tiny hole. I was frustrated. I played around and changed just one thing. The modified basic bind off did the trick.
I just added an extra step every 2-3 stitches depending on the tension and done. Once I tighten my loose ends from my cast-on I ended up with clean edges, squared points and identical widths on both ends I was one happy Loomy.
Below are Text , Pictures and a Video tutorial.
First, The Instructions for the Basic Bind-Off
Follow the picture and text instructions below for the Traditional Basic Bind-0ff. If like me, you're a visual learner, use the video tutorial at the end of this post. In less than 5 minutes you will master this really cool cast-off method.
Cast-on: I used the e-Wrap cast-on and Tighted my Loose Loops
Loom: Used in the Pictures and the Video is the KB Adjustable Hat Loom
Stitch: The Stitch Pattern in the Pictures and Video is the Double Basket Stitch
This technique is worked over 2 pegs.
Step 1: Wrap Peg 2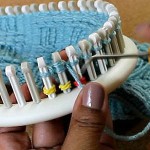 Step 2: Knit-off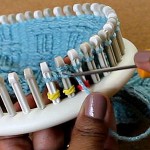 Step 3: Take Loop from Peg 2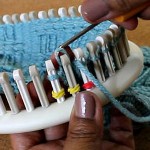 Step 4: Place it on Peg 1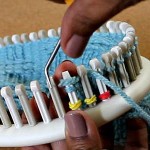 Step 5: Knit off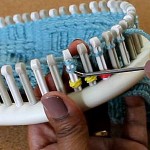 Step 6 : Move Loop from Peg 1 on Peg 2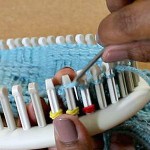 Repeat the process.
The Modified Version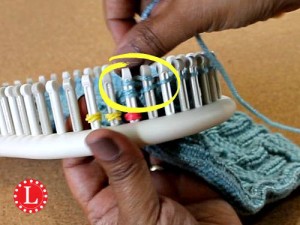 Before reading my change in this section make sure you have mastered the steps above in the Basic Bind-off first.
To create the change in the original technique I've really only changed one thing and that is done after every second or third stitch id bind-off.
I wrap both pegs 1 and 2 (instead of only peg 2)  then continue with the same steps as above.
When I bind off the next 2 – 3 stitches I modify the first step again by wrapping both pegs 1 and 2 until I have only 3 wrapped pegs left to bind-off.
I then do a modify basic bind off and when I only have 2 stitches left I DON'T wrap the last peg but instead move it to the peg next to it, knit off and then feed the working yarn through that last peg.
Done.
For a better visual see the video below.
Video: Modified Basic Bind Off
.
Please watch the whole video before attempting the technique. This will make the process a lot simpler and you will feel more assured that you can handle this cast-off method.
To Subscribe to my YouTube Channel: Click HERE
To Become my Patron for Just $1 and Receive a Really Cool Freebie: Click HERE