Understanding Multiples in Knitting Patterns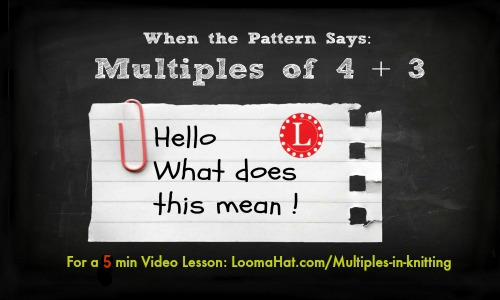 Multiples in Knitting patterns were a total mystery to me when I first started loom knitting. The little plus sign after the multiples was even more confusing. I tried reading blog post after blog post but just the sheer number of words was overwhelming.
Making it simple for my readers was the objective. Besides, so many other folks have already done extremely well explaining this in writing that instead of reinventing the wheel, I made a short video.
Multiples in Knitting for the Loom
The Staggered Eyelet Stitch Image Credit: Textured Knits
I used the Staggered Eyelet Stitch pattern converted for the knitting loom in the video below as an example of a stitch pattern. Like with most flat stitch patterns you will find a line at the very beginning that gives you the stitches necessary for the stitch pattern itself and some more stitches necessary for the fabric to look well and balanced when completed.
That line looks like this: Multiples of 4 + 3.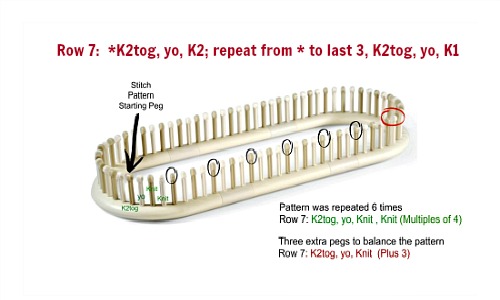 Loom in Video Image: KB Adjustable Hat Loom
This line in stitch patterns was a mystery to me for a while. To be honest I just ignored it and I can't even remember when I finally figured it out. Well I like to make things easy for my blog post readers and those that follow me on YouTube and so I decide to explain through a video instead of breaking it down here in writing. The first reason I ignored was because I didn't want to read instructional. Don't get me wrong I love reading but do tutorials. So sorry for those looking for that kind of information. It that is your thing, sorry but not for this subject.
The Video
The video is short but informative. Please take the time to watch it completely. Feel free to leave you questions and comments. If you want to add to this basic lesson by all means comments from readers are always greatly welcome and appreciated.
I hope the information is helpful.
To Subscribe to the YouTube Channel: Click HERE
.



Tagged: multiples, plus, reading patterns