Name of Stitches
Name of Stitches you've always wanted but didn't know.Am sure that like me everybody has had a stitch they wanted to learn but couldn't ask for help because they didn't know the name. I have seen so many beautiful hats and scarfs where the knitter just takes a picture but never tells you Anything about how to make the darn thing. If they would at a least give you the name of stitches you would be one step closer.
Well while trying to translate a stitch from Spanish to English I pumped into this website called Knittingfool.com. WOW.
My Personal Experience with Name of Stitches Search
To the left is the picture of a stitch I had hunted down forever. I had not considered looking for a Stitch Directory . The phrase had not come up in my cluttered brain. Online searches are useless without the right words. I'm so glad I stumbled upon this website. It was like stepping on a diamond on my way to ask to the neighbor for some rocks.
My stitch was on page 3 of the Gallery. First I must say, Thank God it wasn't page 24 or 25. I might have gotten a bit frustrated. I clicked the image and found that the name of the stitch is Trellis. Although I am not a needle knitter the names of the stitches for needle knitters and loom knitters are the same.
I then entered these words on my browser, "Trellis stitch on loom". Ta-da, I found the pattern.I can't promise your search will be this fruitful as quickly as mine.
If you too are interested in the Trellis stitch for a loom : Click Here
[ Image Credit: Elaine Joann Lyons ]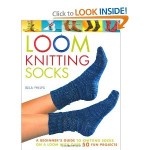 The Trellis Stitch is included in this book among MANY other very cool stitches. I know the book say sock but I love it as a stitch resource.
Loom Knitting Socks is not really for beginners – more like intermediates but so worth the small cost. The stitches are show on clear diagrams. To me this makes knitting so much easier. My eyes and brain can process pictures better than words.
Right now it has 4 out of 5 stars on Amazon – I think because it says beginners and it's not. GREAT BOOK for Loom Knitting Stitches.
The KnittingFool.com Website
Name of stitches is great but you can get more. This site is so worth your time if you do any form of knitting. There is a directory of abbreviations, symbols and a translator. You can translate in 14 languages ! She has 2400 stitch patterns, a stitch counter, a sweater wheel, and a lot more.
Plus she is toooo funny.. here is one of her tweets: I just bought: 'Duck Dynasty Redneck Wisdom Board Game' by Duck Dynasty via amazon
I like this virtual space and plan to hang out there for a bit.
KnittingFool.com
For a Link to the Website Homepage: Click Here
For a Link to the Stitch Gallery: Click Here
A Few REALLY Good Stitch Resources for Loom Knitting.

It is difficult to follow patterns if you don't know the required stitches. YouTube is a great source for stitches. Visit the site and put the name of the stitch in the search bar. I personally don't do well with patterns – they have to be simple with few instruction. I rely heavily on YouTube because I prefer to "See" instructions instead of "Reading" them. I have mild ADD and some patterns can be totally impossible. This list includes nice easy knit / purl combinations of stitches.
Of course there is always Google. The Google Image Search is great. Don't shy away from the other's like Bing and Ask.
.
Here are a few of the Stitch resources I use:
Click the Stitch Image above.
KnittingLoomCentral: Basic Stitches
Isela Phelps: Stitch Guide
Kristen Magnus: YouTube Stitch PlayList
Sofia Burns: Loomatics
Books for Patterns and Stitches
=========================================================================================



Tagged: stitch, stitch directory, stitches