Open Weave Stitch on a Knitting Loom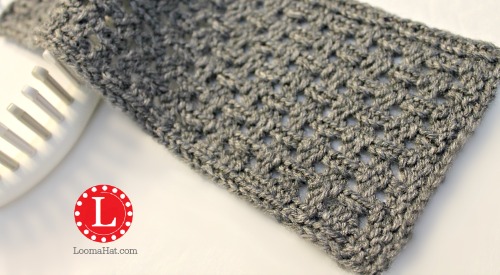 The Open Weave Stitch is a mix between a basket weave and a lace. Great texture, perfect without being closed and dense. Ideal for the warmer spring and summer weather. Will work well as a scarf, throw or a blanket. I have a few ideas for it, hope to get the time to work the project soon. Stay tuned for that.
Like most of my favorite stitches this one is easy to knit and easily used for both men and women. The stitch is best knitters with a little experience. But not much is needed. Below is a step by step video tutorial to guide you through this really cool loom knit stitch pattern.
The Free Pattern and Video
The Flat Pattern is FREE on this website. To Purchase a Downloadable PDF: Click HERE
The PDF includes the Flat and In the Round Versions of the Open Weave Stitch Pattern.
Consider Joining Patreon . For just $2.00 get all patterns posted and not posted on the website each month. Your support is GREATLY appreciated.
To Join Patreon: Click HERE
Supplies Used:
Loom: Use a small gauge loom, best option is a 3/8 inch . I used the KB Adjustable Hat Loom.
Loom: Hook: KB ErgonomicKnit Hook
Yarn: Red Heart in Grey Heather
.
.
Pattern Notes: Read and knit pattern from left to right – like you would a book. The little arrows give you the knitting direction. Do not e-Wrap the knit stitches.
Multiply of 4 + Edges
Flat Pattern
Row 1: > YO, K2TG, YO, K2TG
Row 2: < Purl 2, Knit, Purl
Row 3: > Purl, Knit, Purl 2
Row 4: < Purl 2, Knit, Purl
Row 5: > YO, K2TG, YO, K2TG
Row 6: < Knit, Purl 3
Row 7: > Purl 3, Knit
Row 8: < Knit, Purl 3
Steam block these stitches so they will show up well.
For a post and video on how I start my stitch patterns: Click HERE
For Pattern in The Round you will need to purchase the Downloadable PDF: Click HERE
Open Weave Stitch Video
As always I suggest watching the video completely before starting the pattern. This will make life so much easier. If you have ANY questions please feel free to write them in the comment section here on the page or on YouTube. Comments and questions do not show up on this site until I review them.
To Subscribe to My YouTube Channel: Click HERE
To See More Stitches: Click HERE
To Purchase the  Downloadable Flat and Round Pattern: Click HERE
.

Tagged: basket, basketweave, free pattern, lace, pattern, patterns, stitch, stitches, weave