Operation Christmas Child : My All-Time Favorite Charity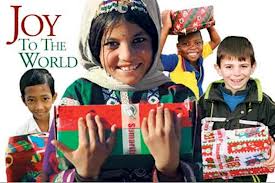 Operation Christmas Child started in 1993 it is the gift giving project of the relief organization Samaritan's Purse. Today they have traveled to over 130 countries and have delivered over 100 million gift filled shoe boxes.
This charity is especially close to my heart. How can I express the love my family and I have for this project but by telling you that we work all year-long looking for bargain items and making special hand-made gifts to fill shoe boxes that I know will travel across the globe to some poverty-stricken, hurting , and often abandoned children left in cold and unloving orphanages. I have personally met two recipients, now grown-ups, who have told us of unspeakable situations and the impact of a small but powerful little shoe box.
I know that many of these kids have Never had a toy or a candy. That many will go to school for the first time because in my little boxes I remembered to include school supplies.
I am so amazed of the joy that I can give with just a few store-bought items and a few loom knitted toys. Let me show you what that joy looks like…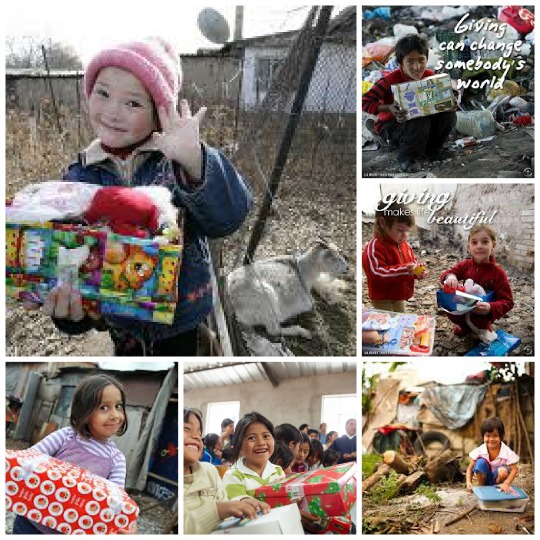 How Can Your Loom Knitting Help Operation Christmas Child?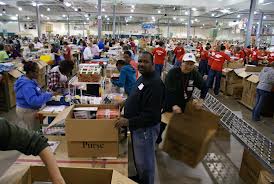 I'm glad you asked because I wanted to share this information to let you know that this is a great place for your loom knit treasures. You don't need to fill a whole shoe boxes. If you only send a few hats, that's OK, because very often they receive boxes at their headquarters that are not filled with enough items. During inspection they take candy and fillers that are donated and make sure that Every box has enough goodies to make the little recipient very happy. That child will only get one shoe box from OCC once in his or her lifetime. They have to make that one count.
So if you send loom knitted toys, hats, socks or scarves they will use those items as fillers. Isn't that awesome? Please note that you don't need to send you donation to their headquarters there are local drop-off sites all over the US, Canada and other countries.
For more information on donating gifts-in-kind, please contact Operation Christmas Child Corporate Relations at (828) 262-1980 ext. 8037 or e-mail OCCGIK@samaritan.org.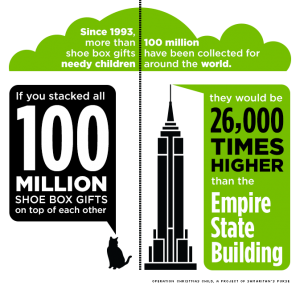 FREE Loom Knitting Patterns
Below are just some of the items you'll find under the Projects page that you can make to send to OCC. Click on the pictures for links to FREE Patterns and Video Tutorials.
Start Loom Knitting for Operation Christmas Child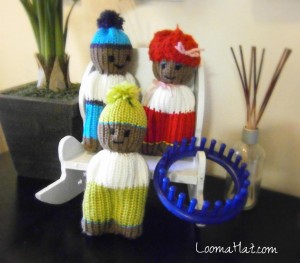 There are so many sweet little items that you can loom knit consider one of these little portable buddys. Comfort dolls are VERY cheap to make. They are small and lovable made from you left-over. Once you get the hand of the simple pattern you'll get them done in no time flat.
Make them male or female. Use crazy bright colors when possible. These kids leave in a gray and brown world. You can even make a Santa Clause if you just change the colors to fit the outfit.
You imagination is the only limit.
For the Pattern: Click Here
.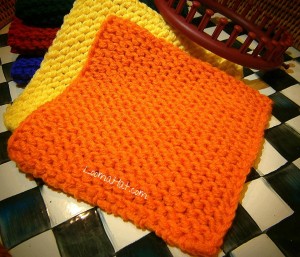 How about a loom knit wash cloth for your Operation Christmas Child shoebox. Knit a perfect square on any loom, round or square.
One must is the you make sure to use cotton yarn. Acrylics and acrylic blends don't do good with this application. Cotton as a natural fiber will do fine with the long periods of moisture. Not to mention how beautiful you can make a hand-made cotton wash cloth.
Another project that can be made using left-over yarn. Make them in stripes so that you only need a bit of each color.
Get buck wild and crazy with this one.
For the FREE loom knit pattern: Click Here
Join me in making a difference in a child's life. A simple hat is easy to make. Once you can loom knit a newborn hat you can make all kinds of really neat things with one, like a knitted doll, a doll dress or a ball. Below is a video just to give you an idea. When you finish with watching visit this Video page for more easy to follow, step by step project videos.
Tagged: all charity, knitting in kind, loom knitting for charity, Operation Christmas Child