Period of Purple Crying Hats on a Loom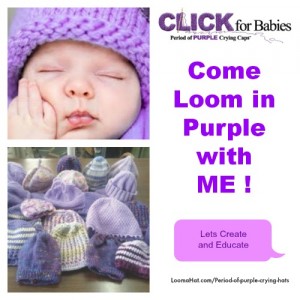 When a baby is in need, distressed or scared all it can do is CRY. Newborns do this without any inhibitions sometimes for hours without ceasing and often it has nothing to do with the reasons mentioned. Sadly for many babies crying has cost them their life at the hands of parents, guardians and caregivers.
Lack of knowledge of what to expect in the first few months is often the biggest culprit for different forms of neonatal injuries such as Shaken Baby Syndrome.
There is a way to help make things better and save babies while you and I do something we already love to do, KNIT.
So why Purple Hats? Below is a brief answer, some guidance, three free patterns, a size chart if you want to make different sizes and where to send your hats. I hope you will at least consider learning a little bit about this organization and how you might be able help save the life of a new baby.
What is the Period of Purple Crying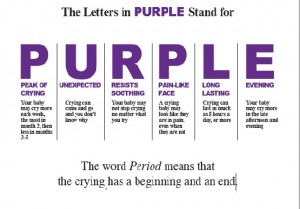 The website homepage says, The Period of Purple Crying. A new way to understand your babies crying. And that is the mission, to help parents understand a very frustrating period in their baby's life.
If like me you thought purple meant the color the baby would turn from so much crying – well you would be wrong. It's not even the color the angry parents face turns. No, it's much better. The word purple tells the parent what to expect and when to expect those episodes of extensive crying. So these six little letters explain it like this…
P: Peak of crying
U: Unexpected
R: Resists Soothing
P: Pain-Like Face
L: Long Lasting
E: Evening
The key word is Period which means that there is a beginning and an end. Although sometimes it seems like it's never-ending.
Below is a video with Dr. Ronald Barr that explains in detail the meaning of the word Purple, what happens during the first two months of most normal healthy children and how this these episodes are different from the very similar appearing episodes of colic.
For their homepage PurpleCrying.info : Click Here
.
How You Can Help
Note: Clickforbabies.org/stitchers-club is the website for knitters. Here you can ask questions (someone will answer you), chat with other knitters  and pick up knit and crochet patterns.
Here is how you can help according to the website:
Donate your handmade, purple colored baby caps to local campaign leaders who will then distribute the caps to participating hospitals, public health offices, and home visiting programs that are educating families about the Period of PURPLE Crying. New parents will receive the purple cap as a gift from the community to remind them that their baby will go through this period of normal increased crying.
Visit the Stitchers Club to see how other crafters are getting involved
Guidelines for the Period of Purple Crying Hats: IMPORTANT
The guidelines below come directly from the site. Loomers please do not be discouraged by the statement * "The large, loose stitches of circular loomed hats tend not to provide enough warmth." * I am providing you with patterns that do not have loose stitches. And yes, they sure do accept loom knit hats.
If you have a tendency to knit loosely consider making your baby hat on a 60 peg sock loom. Knit 40 rows of your favorite stitch.
****************************************************************
Thank you for paying close attention!
Parents select their favorite hat from the dozens that are on display in their birth centers. The most popular hats have common characteristics. These guidelines will increase the likelihood of YOUR hat going home with a family.
YARN: Hats that are either KNITTED or CROCHETED will need to be made with new, clean, SOFT-TO-THE-TOUCH and WASHABLE yarn.
"Value" yarns are sometimes scratchy and tend not to be selected by new parents. Test softness on your cheek if you're unsure!
WARMTH: These hats keep babies' head warm outdoors during the colder winter months. Smaller stitches result in a warmer hat. The large, loose stitches of circular loomed hats tend not to provide enough warmth. (* Read statement above)
SIZE: These hats will be worn by 1 or 2 day old infants. The average newborn head circumference is 14" (13"– 15"). If your hat fits snugly over a balloon blown to 14"around it will usually fit. Hats should be approximately 4-6" high. Make adjustments when using yarn or needles of a different size than your pattern calls for.
COLOR: Hats need to be 50% or more of any shade of PURPLE (for the Period of PURPLE Crying).
SAFETY: Please help us keep babies safe from choking and strangulation risks:
PLEASE DO NOT ATTACH DECORATIONS: pom-poms, tassels, straps, bows, ribbons, buttons, etc.
STYLE: Please use EITHER: all Gender-Neutral (Unisex) styles and colors OR: an equal number of Girl-Friendly and Boy-Friendly styles and colors.
Please help us meet families' requests for more "BOY-FRIENDLY" hats
Consider simpler patterns, darker purples, stripes of brown, gray, green, black.
.
FREE Loom Patterns: Period of Purple Crying Hats
.
Below are two patterns you can use to make your Period of Purple Crying Hats. PLEASE read the guidelines above first.
MORE FREE PATTERNS WILL BE COMING SOON
An additional guideline for loom knitters: To avoid the hats with holes from loose stitches either use a think soft yarn like a chunky 5 or knit with two strands as one.
Click the picture to link to the pattern. If you are a beginner the second preemie hat is best for you. The post includes a picture, text and video tutorial.
Notes: Knit with 2 Strands of Yarn – No button
Loom: 24-peg Small loom
( For a tighter stitch consider the Sock Loom )
Yarn:  Shades of Purple Soft Worsted Weight
Link: Click Here
===============================================================================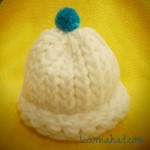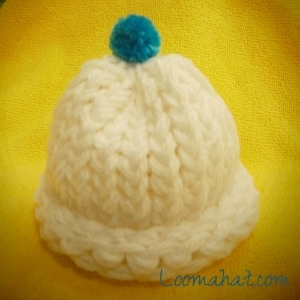 Hat: Preemie Hat (Includes a video)
Notes: Knit with 2 Strands of Yarn – No pom-pom
Loom: 24-peg Small loom
Yarn:  Shades of Purple Soft Worsted Weight
Link: Click Here
.
=========================================================================
For a Tighter Stitch Loom Knit Hat
Consider knitting your hat on a Sock Loom
Basic Pattern: 60 pegs, 40 Rows of your favorite stitch
Simply Intertwined has a Free Pattern using the Sock Loom: Click HERE
=========================================================================
Baby Hat Size Chart

Assumes that knitter is using the recommended 24 peg loom, the e-Wrap knit stitch, Baby soft - worsted weight yarn and knitting with two strands of yarn as one.
Weight
Head
Circumference
Length of Hat
Number
of Rows
>1 lb
4 - 4 1/2
3 inches
12
1-3 lbs
8 1/2 - 9

3.5 - 4 in
13 - 16
3-5 lbs
11 - 11 1/2
4 - 5 in
16 - 20
6-8 lbs
12 -12 1/2
5 - 5.5 in
20 - 22
9-11 lbs
13 -14
6
24
Where to Send Your Hats:
First check for local chapters: Click HERE
If there is no local chapter send it to the headquarters. The address is below
National Center on Shaken Baby Syndrome | Period of PURPLE Crying 
1433 North 1075 West, Suite #110
Farmington, UT 84025 
Tel: (801) 447-9360 | Fax: (801) 447-9364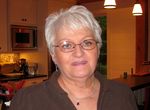 Special Thanks to Karen Mokas for introducing me to this great organization so that I could share it with others.    I met Karen on the
Knitting Paradise Forum.
They have a section just for us loom knitters. Stop by and say hello to Karen.
Tagged: baby, hat patterns, loom knitting for charity