Pom Pom – 6 Ways to Make Them and How to Attach Them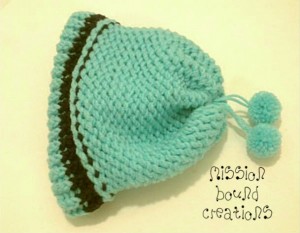 A pom pom is easy to make and easy to use. I have learned 6 different methods to make them. Some you will already know and some will be new and maybe a little crazy to you. When possible I like to give folks options.
The application for this craft is boundless. Adults, kids and everybody in between loves pom-poms. I've also made a video to help with the oddest of all methods. Hope you enjoy and benefit from this information. By the way, I do highly recommend a good pair of really sharp scissors .
Pom Pom Made with a Fork: The Video
This is one cool way to make your pom pom. It keeps the size consistent and you can go from kiddy to dinner forks to serving forks for a bigger or smaller version.
.
.

.
How to Make Your Pom Pom
.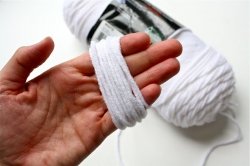 Pom Pom Made by Hand
You don't need to buy anything other than the yarn and a pair of scissors. The main tool is literally in your hands.
I found the very cool instructions : Here Dana shows you a few extra goodies while you're there.
.
.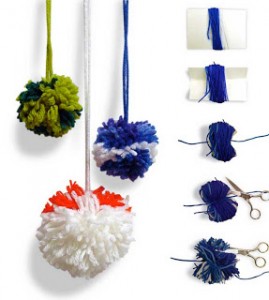 Pom Pom Made with a Square
Hey, you can get a circle out of a square. Here is a Free tool I'm sure you have lying around the house. Another cool method. You can find the complete tutorial: Here  : Art Projects for Kids is a great website not just for pom-poms but a lot of other stuff you and your kids would really like.
Check out The PDF Shop ! Kathy Barbro is a cool artist who seems to have an endless supply of craft ideas, plus she likes Andy Warhol which makes her extra special to me.
.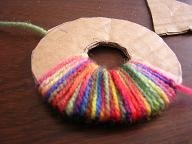 Pom Pom : Made with Cardboard
This is just plain awesome. You recycle and you get pom-poms. The world can almost be perfect. I most admit I don't use this method often enough. I did become VERY fond of it when I needed to supply a troop of Girl Scouts with pom-pom makers. You too can be rescued with the complete instructions: Here
.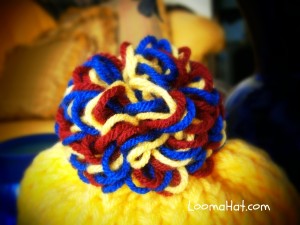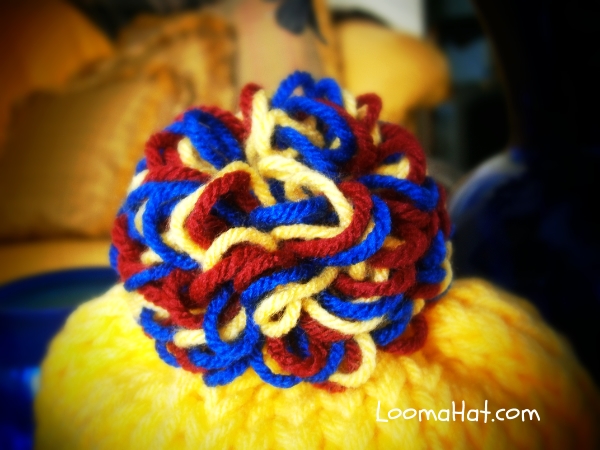 Make a Pom Pom on a Loom
I have recently learned how to make pom poms on a flower loom. I quickly became obsessed  Its easy, fun and a lot quicker then I would have ever imagined.
I so loved this pom pom that I have put it not just on top of my hats but also on the side of some of my loom knit hats, the way I would put a flower.
Just beautiful. For complete instructions: Click Here
.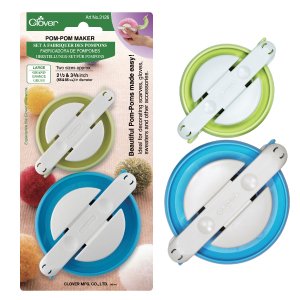 Pom Pom Made with the Clover
I sometimes feel guilty in saying that this is one of my favorite methods. I like uniformity and I get that with this tool. I can control the size of my pom-poms almost to the exact dimension. It's not a high price but cost is cost when you consider that you don't have to pay  anything, like in zero dollars with the other 4 methods. In fact you get to recycle with the cardboard. Well at least I can say that I do on occasion use anyone of these listed methods. You choose what works best for you – not me.
To See All the Sizes and Shapes : Click HERE
.
.
How to make a Pom Pom with a Clover – The Video
.


.
Amazon Customer Reviews for this Product:
I'm not alone in my appreciation of this product. In April 2013 the customer review on Amazon was
4.9 out of 5 stars
 (
44
) . That means that almost 100% of 44 people rate the Clover 5 stars
Did I mention that they have one that makes Heart pom-poms. Is that just too cool or what?
I have not tried this particular tool yet. If you have, please, please leave a comment below for the sake of us who will be spending some cash soon on this  baby.
.
Now How to Attach the Pom Pom to Your Project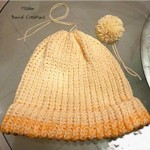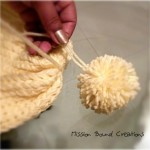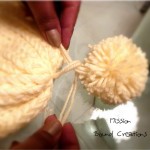 This method of attaching the pom-poms to your project should work whether it's a hat, a purse, or a gift. Just remember not to cut the two string left over when you finish the pom pom because you will need them.
Hope my information was helpful! Now, Let me know what you think.
.
Use Pom Poms as Animal Ears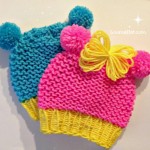 You can always change the position of the pom-poms of your hat to get a different effect.
These little pom-poms were made for my Mouse Hats. I get frustrated trying to knit animal ears so I looked for an easier method and making pom-poms with the Clover was the best thing I could think of.
For a FREE Loom knit pattern of this little hat. Click Here
.
Pom Pom Craft Books
.
Don't run out of pom pom craft ideas. Here are three of the highest rated pom pom craft books. Can you believe you can make a sweet birdie or a chihuahua with yarn puff? This is a craft that super easy and super fun
======================================================================