Rambler Stitch Pattern for any Knitting Loom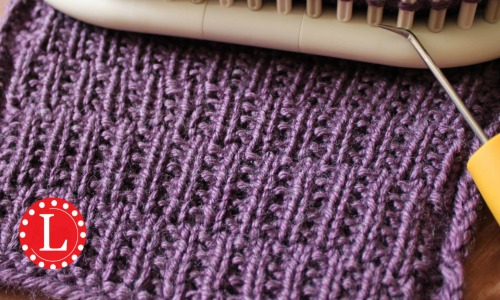 The rambler stitch is a very easy pattern. I will guide you through your knits and purls to create a fabric that works great for any project. Doesn't matter if its a baby boys blanket or your mom's sweater, this stitch looks so beautifully textured.
The pattern video is less then 5 minutes long. I love short videos !
Pattern Notes
Level: Beginners
Multiple of 2 + 1 (Cast on an odd number of pegs – end each row with a knit stitch)
Size: 24 Stitches and 42 Rows for 4×4 Inch (Approximately)
Stitches: Knit and Purl
Loom: Any Loom – Works Best with Small Gauge. The AHL was used for Sample.
Yarn: Any Weight Yarn
Notions: Loom Hook. Used the KB Ergonomic Hook for sample
Pattern
Flat Version Stitch Pattern
Pattern below is only the repeat because I prefer to make the stitch patterns as simple as possible for beginners. Note the little arrow head for the knitting direction.
 TO PURCHASE THE DOWNLOADABLE PATTERN: CLICK HERE
Consider Joining Patreon . For as little as $2 get all patterns posted each month. With a higher $5 pledge you also get the downloadable video so that you don't need to be online to create your project.
To join Patreon: Click HERE

> Row 1: Knit
< Row 2: k1, p1
> Row 3: Knit
< Row 4: k1, p1
> Row 5: Knit
< Row 6: k1, p1
> Row 7: Knit
< Row 8:  k1, p1
> Row 9: Knit
< Row 10: p1, k1
> Rows 11:  Knit
< Rows 12:  p1, k1
> Rows 13:   Knit
< Rows 14: p1, k1
> Rows 15:   Knit
< Rows 16: p1, k1
> Rows 17:  Knit
< Rows 18: p1, k1
Rambler Stitch Video
This 5 minute video will guide you through this simple stitch pattern. Let me know what you think in the comment section.
Don't miss any videos. Subscribe to my channel: Click HERE

.




Tagged: stitch pattern, stitches