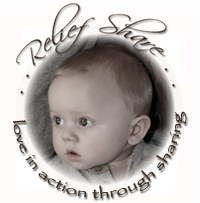 ReliefShare.org :  A Great Organization!
One of the slogans is, "giving relief through sharing." What a beautiful statement. For me, it is spot-on as far as what I want to do with my loom knitting projects.  If you love to knit, sew, or put funds together for an awesome cause you need to visit this website and get to know these folks. The blog is especially sweet.; full of pictures of sewn and knitted toys, hats, booties and blankets. I must suggest however, that you have tissue in hand. Some of the pictures will tear you heart apart and help spring you into action.
One thing for sure,  I promise that you will fall in love with the people and the projects.
In Their Words – Directly From Their Homepage:
" We Believe…
..that the solution to inequality, pain, suffering, and lack in the world is 'those that have' sharing willingly from the heart with 'those that have not' who are sick and/or needy.
Warm clothing and bedding for babies, quilts for the aged or ill, books for the disadvantaged, essentials and household goods for those who have lost everything in floods, house fires, or due to job loss; these are just some of the need we help with…."
Hats are always wanted plus they are one of the easiest things to make for babies. The cool thing is that if you know how to loom knit a hat you can make a cocoon.
What's a Cocoon Got to Do with a Baby?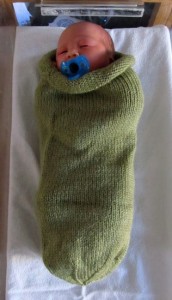 Cocoons keep babies wrapped warm and snugly . Two things newborn love to feel when mommy is not around.
I heard about these around late 2011 and fell in love with the odd-looking baby blanket with the most proper name. I wish I had known about them when my kids were babies. I found myself constantly re-wrapping them in their blankets because they would loosen up after just a couple of minutes. Not to mention that the babies look extra cute in them – don't you agree.
So how can you send a hat and not a cocoon? And like I said – if you can make one you can make the other.  The reason being that if you can loom knit a baby hat to make a cocoon you do the same thing just make the hat longer.
Now keep in mind that you are using the small loom for the baby / newborn hat and the medium or large loom for the cocoon.
Here is a Video Tutorial on the loom knit baby / newborn hat :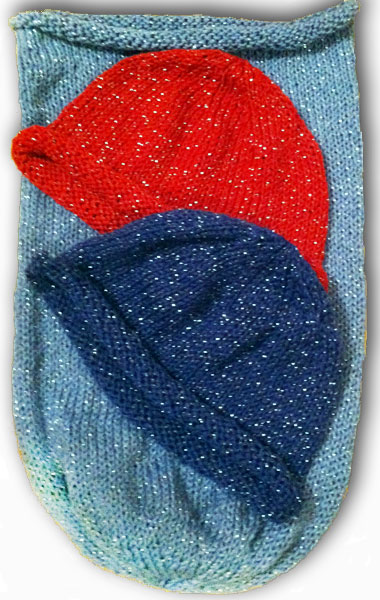 You will have fun making these little treasures in all kinds of colors and color combinations. Don't worry if they don't match exactly, the babies won't mind and neither will their mommy's  The hospital's are kept so cold and these little ones desperately need to keep their bodies warm. So many of them need to heal and develop before they can go home to their families.
After you know how to make these items it won't take you more than maybe an hour to finish a hat and a cocoon.
If you get a bit rumbustious you can also make matching baby booties.
For a YouTube video with complete instructions on that project: Click Here
This organization does beautiful things with your beautiful creations. Visit their website: Click Here
.
PLEASE SEND DONATIONS TO:
Relief Share, 6078 Lundy Rd, Houston, MO 65483-2225 Phone 417-260-2505
Reliefshare is a 501 (c) 3 non-profit organization so your donations are tax-deductible.