10 LoomaHat Resolutions for 2017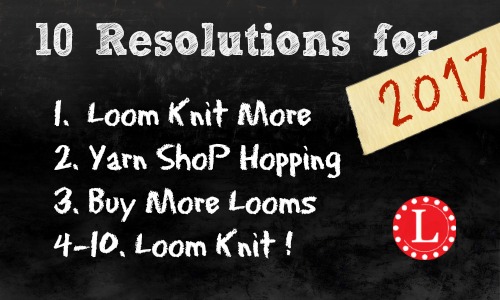 According to my Google search Resolution is defined as: a firm decision to do or not to do something. Since this is December 31, 2016 I thought I would list my 10 resolutions for the Loomahat Brand 2017. Since you guys are the true recipients it's only fair to share the projected journey.
Needless to say I'm only a human and so my list is fluid. Let's just say that I will keep a copy in front of my computer until I have memorized it from top to bottom in the hope that I will stay focused and determined.
My List of Resolutions 2017:
It starts with one major four letter word – MORE
More Weekend Videos: To Be Posted on Saturday or Sunday
More Reviews: Products, Books, Blogs, Patterns
More Stitch Patterns: At Least One per Month
More Charity Posts: Highlight Good Solid Charitable Organizations
More Technology: How to use Kindle and Apple for Your Knitting
More Tips and Techniques: To Make Your Knitting Easier
More Q & A : To Answer Those Questions That Have Been Bugging You All of Last Year.
More Beginner Projects: Simple 1 or 2 Stitch Projects
More Face on Camera Videos with Kamrin: I Want to Get to Know You Better and For You to Get to Know Us Better Too.
More Personal: Let's Get to Know Each Other.
It's going to be up to you guys to keep me in check and hold me accountable. Let me know what you think of the list and should I consider a number 11.
YOUR List of Resolutions 2017:
As I get recommendations through out social media and this website from you for more resolutions I will list them here for everyone to see and comment. And, although my daughter thinks it's a bad idea to say, the list is Fungible.  I'm more than willing to replace any of the above listed items except #5 and #8 and maybe #2.
So – what say you friend?
Facebook Live – Community Pattern of Squares to Join Together for an Afghan ( China Ali)
Tagged: resolution, resolutions