Where to Send Knitted Bandages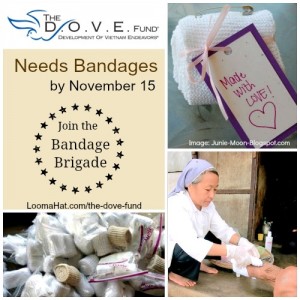 VERY IMPORTANT NOTE: This is an on-going effort YOU CAN STILL SEND your bandages.
The information below this paragraph was related to a specific 2014 delivery deadline but the need continues. If you can help PLEASE continue to read and ignore the dates.
*****************************
The DOVE Fund  needs knitted bandages by November 15, 2014. There is a group of Veterans leaving in December to the leprosy colony in Vietnam.
These precious souls love getting the highly needed and greatly cherished hand made bandages. Knowing that someone took the time to send knitted bandages gives them a sense of being loved. Like a yarnny hug.
If you knit, crochet or loom please consider participating in this beatiful project. Below is the email I received from them. Please take a few minutes to read it if you can, There is some update useful information.
I had written about this charity last year.
To read the complete post that includes, supply List,  Guidelines and Free Knit , Crochet and Loom Patterns: Click Here.
Scroll down to get the address to send your knitted bandages.
If you don't want to knit or can't for what ever reason you can still help. Here is the information in a PDF for easy distribution to friends and family who can send knitted bandages to the Dove Fund: Leprosy Bandages Handout PDF
Deadline: November 15, 2014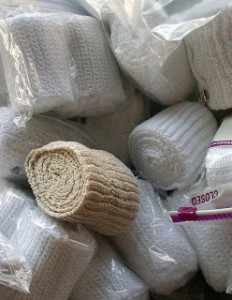 From: The D.O.V.E. Fund Bandage Brigade
.
All you busy Bandage Brigade volunteers out there; the time has come to send in your completed bandages so they can begin their exciting journey to Vietnam.
A BIG thank you for all the bandages that have already been sent it. Please share this "call for bandages" with any friends who may also be helping with them.
.
This shipment will be personally escorted in December 2014 by veterans returning to Vietnam on behalf of the D.O.V.E. Fund.
This year we are asking you to ship your bandages direct to D.O.V.E. Fund Board Member. Roland Southard in Ohio (see address below).
We need to have everything for this departure received in Ohio no later than November 15, 2014, then we can all start working on another batch for next year.
.
Preparing the bandage for its trip:
Each bandage should be washed, dried, rolled up and secured with a safety pin. When you roll them up, PLEASE double check that you have woven in the ends of the thread (after doing all the work of making them, we want to make sure they do not unravel from having loose ends hanging).
Then put them in a zip loc bag, several to a bag is fine.
PLEASE do not forget to enclose in your box a sheet of paper (8 1/2 x 11) with your name, address, phone and e-mail contact info (if available).
Shipping, Tracking & Notification:
.
All bandages should be shipped direct to our new East Coast Bandage Brigade collection location addressed like this:
.
Send Knitted Bandages to:
The D.O.V.E. Fund Bandage Brigade
Roland Southard
115 East Back Ray Road
Bowling Green, OH 43402
.
Ship your bandages as economically as you can. They are not fragile, parcel post works fine and if you just have a few feel free to send them in a sturdy envelope. If you get tracking as a shipping option you will be able to verify their arrival online.
.
I will also send you a thank you e-mail once the package has arrived and been logged in at our location.
With this new shipment The D.O.V.E. Fund Bandage Brigade will have delivered over 20,000 bandages to Vietnam since we began in 2008. Together we are really making a difference!
I am attaching a copy of our current handout for your use and to share with other friends who may want to work on this project as well. The attachment is in Word let me know if you would like to have it sent to you in pdf as well.
Let me know if you have questions or if you have moved on to other projects and wish to be removed from this list.
May you all be blessed for your generous work on this special project!
Linda Stocker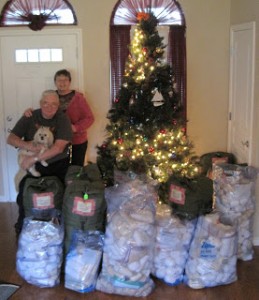 The D.O.V.E. Fund Trustee
The D.O.V.E. Fund Bandage Brigade
www.dovefund.org
leprosybandages,.blogspot.com