Loom Knitting with Slub Yarn
I would have never imagined that Slub would bring me joy. The word looks to much like slob. Which has me thinking gray and not yellows and greens.  But slub yarn is really beautiful and finding a technique that allowed me to use this pretty yarn in the only way I know how to turn knots into hats did make me very happy. So let me tell you in 300 words or less what I learned so that you to can find joy in a ball of slub.
By the Way, Slub Yarn is also known as: Thick and Thin, Novelty and Art Yarn.
Image of Yarn Credit: AllPrettyFibers.Wordpress.Com
About the Yarn and the Loom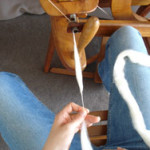 This yarn actually started out as a mistake that new spinners would make.  Finding fuller nubby sections in the fibers was not on purpose. When it did happen , those parts would be discarded. Somewhere along the line and I can't tell you when because I didn't do enough research, someone decided this looked pretty good and they wanted to keep it. So was born this crude but ever so interesting slub yarn.
Now, that the short history lesson is ever. All this information on this loom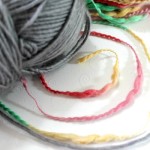 knitting website begs the question, what does a loom knitter do with a yarn that goes from Sport to Chunky in 3 inches of fiber? You can't switch back and forth on gauge.
Well, that was the question I asked me and me said, you find a yarn that is worsted weight and knit with two strands as one through out the project. I did as I said and the results were fabulous. Vickie Howell's line of Sheepish yarn played along nicely with my slub yarn. Which by the way I find the slub in one of those big bins filled with unlabeled yarn in my local Joann Store . I bought it at a steal with a coupon.
The two stitches that I have tried and worked well with the two yarns together are the e-Wrap and the Figure 8. I would say that the Purl will not work well with the fuller section of the Slub Yarn.
For MORE STITCHES: Click HERE
Image Credit of Spinner: Tricotin.com
A little Pixie with Your Slub
Well I thought that with the tiny string of simmer in my yarn I needed to make something a bit whimsical. Immediately my mind went to Ticker Bell and her Pixie dust. With my ADD I was in a wonderland of Pixie that of course included a hat. So below is the result of my day dreaming about slub and pixie.
Baby Pixie Hat Pattern: (Video Coming Soon)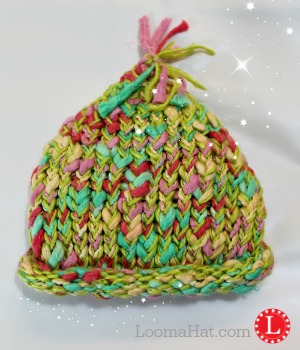 Loom: 31-Peg ( I used the Red Knifty Knitter )
Yarn: About 60 yards of each. Slub Yarn and Worsted weight. I used a Joann Generic and Vickie Howell's Sheepish in Chartreuse-ish
Stitches: Uwrap and e-Wrap
Cast-on: Use the thin end of the yarn to cast-on
Wrap all pegs – Uwrap knit
Brim:
Rows 1 – 3: Uwrap Knit
Rows 4 – 10: e-Wrap Knit
Body of Hat: e-Wrap Knit
Note: If you are using regular yarn – use the U-wrap version of the knit stitch and knit an additional 10 rows at this point. To see the difference between the 2 stitches click HERE
Now only knit 16 pegs – Decreasing by one peg on each end every other row until you are down to 2 pegs
Now only knit 15 pegs – Decreasing by one peg on each end every other row until you are down to 2 pegs
Sew up the two sides – You're Done
Where can you get Slub Yarn ?
You guys know the usual players Amazon and eBay
. I would also suggest Etsy and private independent sellers. And of course, Google it !
Tell me what you think. Leave your questions, comments and advise in the comment section below.
========================================================================