Sonia Cataquet
I met Sonia Cataquet aka SCAT9019 on the Loom Knitting section of the  KnittingParadise.com forum. I go there on a regular basis to engage with knitters, help when I can, and find interesting projects.
Several months ago I was browsing through older threads looking for something of interest when I saw Sonia's gorgeous bright pink sweater. I was so taken by the complex stitches that made up this incredibly beautiful design. When I went to her profile I found more awesome loom knit garments.
Here are just a few of the comments by readers,
Jessica-Jean "I never knew such fancy work could be done on a knitting loom! Beautiful!'
Ronie, " I had no idea you could do such nice work on a loom."
Ciyona, "I would love to learn more on how to create such beautiful things with my loom."
Jackie.Reynolds3, "Pieces are gorgeous. "
I knew I had to share Sonia's creations with my readers.
Now, Sonia is extremely modest about her knitting. She doesn't blog, vlog or or write her patterns on PDF's . She loom knits for those she loves and she will freely explain how she made her loom knit cloths to anyone who asks. So she's beautiful,talented, modest, generous and she's Latina from Puerto Rico.  Too bad she's married and my son is only 17.
Note: All information, pictures and quotes used with Sonia's permission
Her Looms
When asked about her looms, I thought she was going to name some fancy hand-made expansive wooden tool. I was surprised to discover that like me, Sonia uses the Knifty Knitter and the Darice looms.
Here she explains,
I use Knifty Knitter yellow (41 peg) for upper parts and green(36 pegs)for lower parts
That was a bright side for me because I really wanted to try one of the sweaters using exactly what Sonia used.
The Fab Bright Pink Sweater Pattern
Sonia was asked about the pattern for this sweater by one of the forum members. Below is her answer:
I made this in Red Heart Love Yarn with KK yellow loom in Diamond Stitch
I's my own design but it so easy to work out.It is 2 pieces T shaped sewn together. Using KK yellow loom work 20 pegs for 30 rounds,then work the full loom (41 pegs) for 45 to 60 rounds(checking your size),then continue knitting only 20 pegs for the other sleeve for 30 more rounds.Make single crochet around the piece and sew together. I use one strand only.Enjoy !!! and thanks for the complements.
Authors Note: Sonia knits flat panels and sews them together.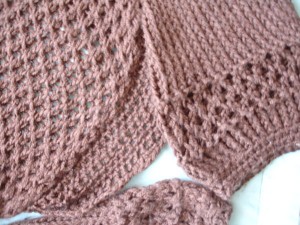 Another member had this question: Ok I am new to this, the stitches used to make the little diamonds? And one more really dumb one when knitting 20 pegs are you going back and forth or around?
Sonia's answer: This stitch is made in 4 rows to make the diamonds.
Row 2 and 4 are worked making an eight figure between pegs,
Row 1 & 3 E-wrap all pegs
Row 2 Skip first peg,e-wrap peg 2 ,back to peg 1 and e-wrap,with yarn behind pegs skip pegs 2 and 3 and e-wrap peg 4,back to peg 3 and e-wrap,with yarn behind pegs skip 4 and 5 ,e-wrap peg 6,repeat to last peg.Yarn will finish in the penultimate peg.
Row 4 E-wrap first peg,skip peg 2 and e-wrap peg 3,back to peg 2 e-wrap it,with yarn behind pegs skip pegs 3 and 4 ,e-wrap peg 5,back to peg 4 and e-wrap it,skip pegs 5 and 6,e-wrap peg 7,and so on to penultimate peg,e-wrap last peg.
Repeat the 4 rows for the length of the project.
.
.Learn New Stitches on Circle Looms
by Ann Bipes – Creator of the DL Stitch
This awesome little book has the Diamond Lace Stitch pattern along with nine (9) other really cool stitches. Its not a big book only 34 pages but just as valuable any larger volume book.
Click Here – then click the picture 
Here is a Video Tutorial for the Diamond Lace Stitch
 The Green Summer Sweater
Per Sonia:
I made this with Caron Simply Soft,double strand using single crochet for top part and spiral stitch for bottom
I used the Knifty Knitter yellow loom using only 40 pegs.
It is 2 panels,the front in spiral stitch and back in e-wrap.The spiral stitch I found it in a project by Robin McCoy but don't remember the site.
Consist of 7 rows
Row 1 ,3,5,7 knit
Row 2 Move the loop from the following pegs to next peg, pegs 3,6,9,12,15,18,21,24,27,30,33,36 .
E-wrap all pegs and knit off.
Row 4 Move loops from pegs
1,4,7,10,13,16,19,22,25,28,31,34.E-wrap all pegs and knit off.
Row 6 Move loop from pegs 2,5,8,11,14,17,20,23,26,29,32,35.E-wrap all pegs and knit off.
I pick the stitches of the panel after taking it out of the loom and start making the crocheted upper part.For the straps work only 7 stitches.After making front and back panels with straps joined them.Make single crochet around neck and arm holes.
The Husband's Sweater
Per Sonia:
Made this with yellow and green KK looms with Premier Yarn of Deborah Norville.
Just make the sleeves with the KK green loom working in round.Back and front sides with KK yellow loom of 41 pegs working flat and collar with KK green loom working flat.Front part overlaps.
1×1 ribbing 10 rnds for border of front and back parts and sleeves.
Sleeves with green round KK Loom working in round and crochet cast off (one chain between pegs)
Sides and back with yellow round KK working flat.
Collar green KK working flat and then fold and saw to sides of front parts.
A New Sweater for Mom
Per Sonia:
I make this one with Caron So Soft and it turns heads when she wore it. Made with KK yellow loom.
Two pieces make in a 41 pegs looms joined by the sides.
The collar and the bottom part is garter stitch,one row knit,one row purl.The faux cables are working figure eight between two pegs.
.
A New Sweater for My Sister
Per Sonia:
To make this one you make 3 pieces,back on 41 peg loom using seed stitch and 2 sides for the front working 24 pegs also in seed stitch for the length you want.
For arm hole shaping reduce one peg every 2 rows until you reduce 7 pegs.For sleeves just work in the round for the desire length and crochet bind off.Make cuffs and sew them to the bottom of the sleeve.The hoodie is 2 flat panels work in 36 peg loom sawn together and saw it to back and front.
I make the sleeve in a 36 peg loom and the most important part is making a crochet bind off(with a crochet hook pick the yarn make a chain, then pick the loop from the peg pass it through,make a chain,etc) This make more comfortable the arm hole.
After taking the piece from the loom,saw with plastic needle to the body of sweater.
Final Thoughts
I have to think that by now you are as impressed with Sonia Caraquet as all the rest of us who have seen her work are. Everything she makes is beautiful. PLEASE take the time to leave a little message for Sonia.I thank her for allowing me to share her unconventional patterns.
Thank You Sonia ! ! !
Tagged: knifty knitter, knit, loom, shirts, skirts, Sweater, sweaters