Special Olympics Scarf Project, Colors and Shipping Info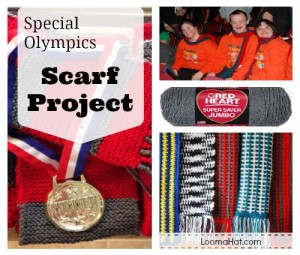 This year you need to join the knitting party! The Special Olympics was founded by Eunice Kennedy Shiver in 1968. The Special Olympics Scarf Project was started in 2009 by the yarn manufacturer Red Heart. They concluded the project in 2011 because as they stated, The program became so popular that donations outpaced the number of Special Olympics winter athletes and supporters. It was as important to us, as we know it was to you, that each and every scarf made it into the hands of the intended recipient – an athlete or supporter – something we cannot ensure going forward, due to the high volume of excess scarves. That was they're exit speech. No hard feelings they started something great.
And the project continues across the United States. Folks are still excited to take part in an extremely beautiful project that tells courageous men, women and children that they are winners.
Image credit: Special Olympics Michigan and Coloring with Yarn

For Updated Information Visit
The Coloring with Yarn blog has AWESOME easy to follow yearly pages totally dedicated to the Special Olympics Scarf Project. Very nicely outlined and extremely easy to follow. If you make a mistake I have to think you weren't paying attention because they cover all the bases.
Note: That although the project was started by Red Heart you don't have to buy their yarn.
Coloring with Yarn: Click Here then click the Special Olympics Tab, choose the current year
Knit and Crochet for a Cause on Facebook: Click Here . Look on the left hand side for the tab.
Special Olympics State Scarf Project on Ravely: Click Here
You must make sure you are looking at the current date. Information changes every year and you don't want to be a lot of hours into you Special Olympics Scarf Project only to find out your colors are wrong or the state you decided on is no longer participating or met their goal for the year.
Guidelines
These may change from year to year. Good idea to check the Links above for updated information
Standard Scarf Guidelines:
** 54-60 inches (Including Fringe);
** 6-7 inches wide;
** Any Design or Pattern using ALL Colors
Scroll down to find a Basic Loom Knit Pattern that meets the guidelines: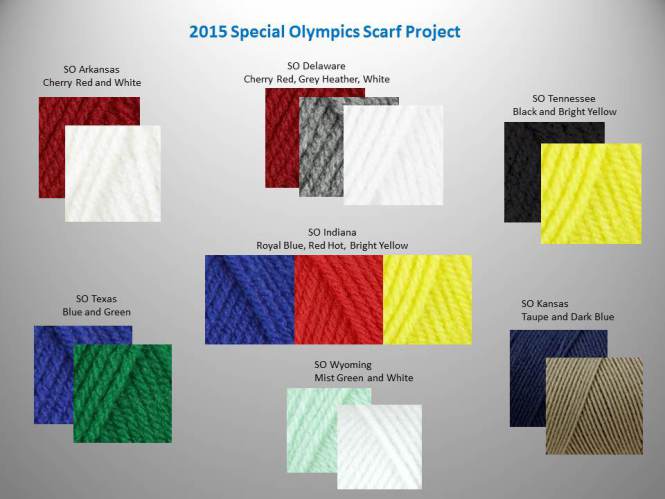 Below is how the information is outlined on the Coloring with Yarn page.
STATE:
Currently 12 are participating
Goals:
Varies by State
Received:
This is posted on the website and update continuously
Colors
: Each state chooses their colors
Deadline:
 Some states start as early as April the year before the games
Send to
:  Individual states
Remember that this information changes EVERY YEAR.
For Special Olympics Scarf Project 2015 : Click Here
For Special Olympics Scarf Project 2016: Click Here
Basic Pattern for a Loom Knit Scarf
I have given this pattern with approximate figures. It's always a good idea to make a quick little swatch first if you want to be 100 % sure of the measurement.
Loom: Any large gauge loom
Yarn: 1 Skein of Worsted weight. Knit with 2 Strands as One.
Cast on: 18 stitches
Row 1: Knit
Row 2: Purl
Row 3: Knit
Row 4 Purl
Row 5 – Knit Until you reach about 55 inches.  Approximately 250 – 300 more rows. Number depends on your knitting style, your loom and choice of stitches.  Note that the e-Wrap knit stitch will help you go faster.
Last 4 rows do Rows 4 – 1 (end with Knit)
Cast off:  Crochet cast-off
Decorate: Put your Pom Poms or Fringes (these add another 1 – 3 inches to your scarf)
** Video on How to make Tiny Pom Poms with a Fork: Click Here
.
Patterns for loom knitters can be found in the books below.
Awesome One Minute Video about the Special Olympics
.

Tagged: knitting for charity