Spiral Hat on a Circular Loom
The spiral hat is super easy to do. Never-the-less, because beginners are always on my mind I have a written pattern and a step by step video tutorial. Even if you have made a spiral hat in the past take a quick look at the video. It's under 9 minutes and you might learn something, like a cool trick I learned from Karen Aiken.
More importantly, this is a great project for gift giving. You can start and finish the hat effortlessly in just a few hours. Share your pictures !
Pattern notes:
You will be using 2 versions of the knit stitch. The U-wrap on the brim and the e-Wrap on the hat. This helps with the shaping. There is a video to help you with both stitches: Click HERE
The pattern is a 5 stitch pattern so any loom that will lend itself to a 5 stitch repeat with an extra peg at the end will work well.
.
Pattern: Spiral Hat
.
Supplies
Round Loom: Extra Large – Used the 41-peg Darice Loom
You can use the 36 or the 31-peg for smaller hats just knit less rows.
Loom Hook: Any Hook. I used the Knifty Knitter hook
with a rubber band grip
Yarn: 197 Yards of #4 Worsted weight. Knit with 2 strands as 1.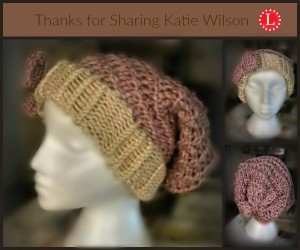 Image Credit: Katie Wilson – Facebook Fan. Thank you Katie !
Cast-on:
Wrap every peg then U-wrap knit every peg.
Brim:
Rows 1- 18: Knit 3 (U-wrap) , Purl 2 to the last peg then Purl 1. Fold the brim.
.
Hat:
Rows 19 : Knit 3 (e-Wrap), Purl 2 until you reach the last peg. DO NOT knit the last peg YET. First knit off all your e-Wrap knit stitch. Then start the pattern for the next row with the peg you did not knit.
NOTE: Every time you start a new row the Starting peg with shift one spot down.
Repeat row 19 until you reach your desired length. I did 45 rows.
.
Cast-off:
Click HERE OR Below to Turn the Hat into a Messy Bun Hat.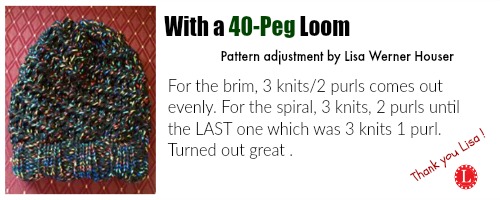 Video : Spiral Hat

.
.