How I Start My Stitch Patterns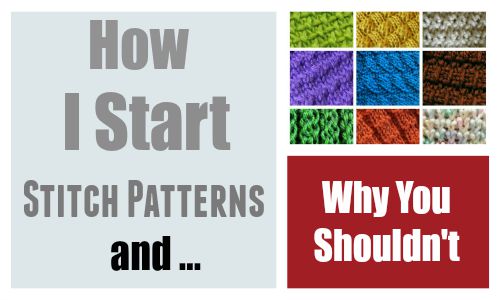 So I'm constantly asked how I start my stitch patterns. I am going to explain how and why you should NOT do the same.  I'm doing this because some people have gotten genuinely confused and others have even gotten angry because my videos immediately start with the stitch and not the cast-on. Well I don't want those people to think I don't care because I do.
So below is my step by step process in text, picture and video. Hope the helps.
The Loom I Almost Always Use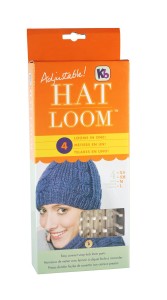 My loom of choice for most of these lessons is the KB Adjustable Hat Loom. I use it because stitch patterns show up much nicer when you use  small gauge looms.  Plus this one happens to be available in a lot of your local brick and mortar stores like Joann's where you can get it with a coupon as well as on-line through eBay
 (best price) and Amazon.
Please note that lot of these patterns will work on any gauge loom but the detail might not show up in the same way.
How and Why I Mark my Loom
First let me remind you that I have ADD so I can't focus very well. Marking my loom is essential even with simple of patterns
I use Rainbow Loom rubber bands. They're good quality bands and the come in a large array of colors. With them I mark my anchor peg. The KBAHL does not have an anchor peg so this lets me know not to knit the slip knot that I placed on that peg.
Then I mark out my edges and my multiples . So let me explain that a bit better. I mark 2 pegs at the beginning for a slim edge. Then if the pattern is made up of say 6 stitches – I mark every 6th stitch for the length that I want the fabric and end by marking 2 pegs at the end for another slim edge.
Mark the Start: Anchor Peg and Edges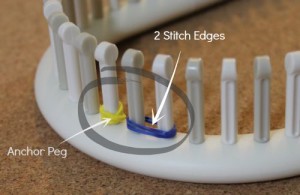 Mark the Multiples: The Number of Pegs Needed to Create the Stitch Pattern. I Mark the Repeats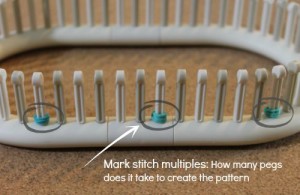 Mark the End: Edges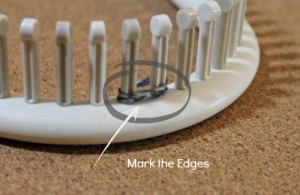 Knit 2-3 Rows for a Thin Edge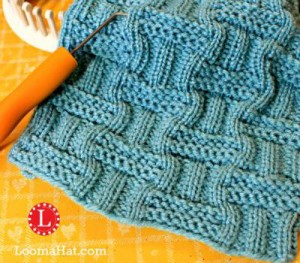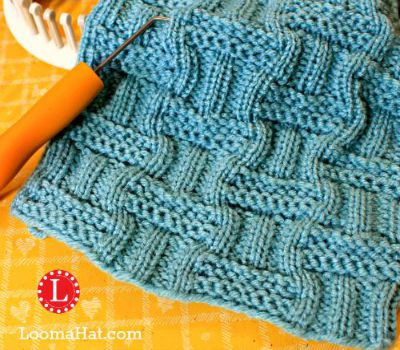 I e-Wrap all my pegs then use the U-wrap to knit the cast-on. The edge will consist of 2 – 3 rows of the knit stitch. How many is determined by the yarn which is usually left over or chosen more because of color then any other reason. I do try to keep the edge as thin as possible so that it doesn't distract from the pattern. I tighten that first row of loose loops to make sure I have a clean edge.
Why You Shouldn't Do This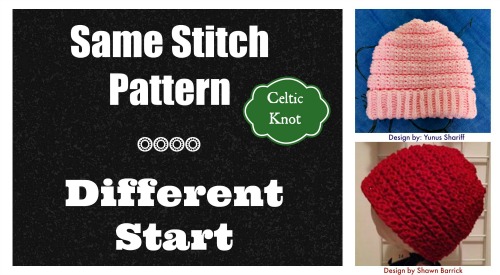 A stitch pattern is NOT a project.  When I show you a stitch pattern there are several things you have to keep in mind.
On the Videos I'm Knitting Flat 
This means that with some projects like say a hat, some stitches are not going to be knitted in the same exact way that I'm knitting. That is the reason that in my videos I send you to the website for  patterns. So that if you're knitting a hat you can use the pattern that says in the round.
The Stitch Does Not Determine the Start
The start, which is actually called the Cast-on, is not determined by the stitch pattern but instead by the project. I can use the Double Basket Pattern for a hat and a blanket but I'm going to start them very differently. The brim of the hat will determine how I begin and the edge of the blanket will decide the cast-no for that project.
In fact 2 hats may have very different starts even when using the same stitch pattern. I start a rib stitch brim with an e-Wrap cast-on and a flap-over brim with a chain cast-on. Once I finish my brim I can choose to continue my hat with ANY stitch pattern.
Conclusion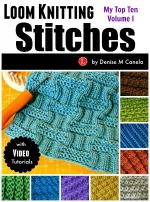 Pick the project, pick a cast-on (start), then pick your stitch pattern. The decisions should be made in that order.
AND PLEASE, PLEASE don't think I wrote this because I was bothered by the questions. No way. Never worry about asking questions – I love questions ! If you thought about it someone else did too. When you ask you will be helping others and me too.
Listen, I even like critiques. Many have helped me BIG time.  So it's the motivation behind the comment – not the comment nor the question.
To see a listing my stitch patterns Click HERE
A Quick Video

.
Tagged: patterns, stitch pattern, stitches