Three Step Stitch Baby Hat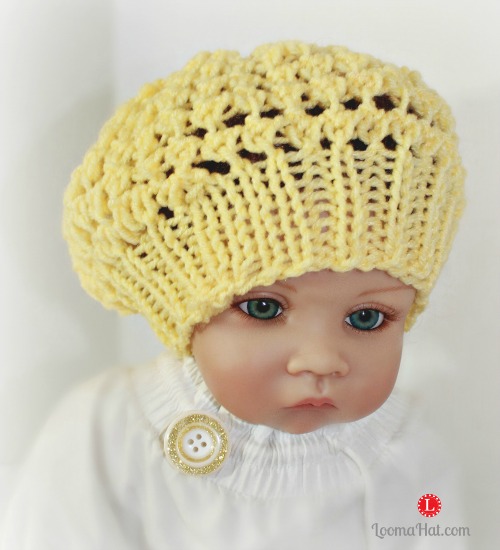 There are some stitches that deserve to be used more than once. This is especially true when you have a really cool adult hat and you want a baby hat to match it. That is why I designed the Three Step Stitch Baby Hat. If you have not seen the adult version Click HERE for a pattern and a step by step video tutorial. I did write on post just for the stitch. If you prefer to start at the very beginning, Click HERE.
This little hat was actually the test pattern for the adult version. It came out so tiny that I decide to turn it into a baby hat. I made it almost a year ago and it was supposed to go in one of my Operation Christmas Child shoe boxes for a girl 2 – 4-year-old.  I didn't make enough shoe boxes to include it – but next year for sure.
Now let's get to the pattern.
The Pattern: Three Step Stitch Baby Hat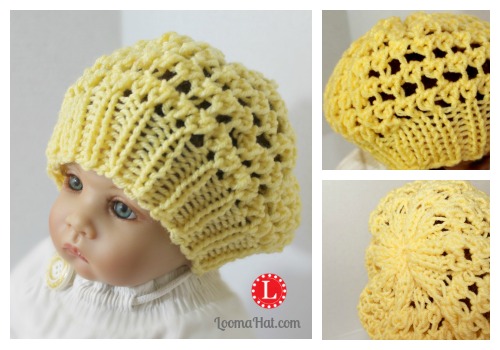 The little hat has a lot of elasticity so the range is huge. It should fit a baby between the ages of 1-3 years old. Now understand that we don't all knit the same so some of you may get a larger or smaller version of the hat than mine so test your pattern before you make the one you actually want to keep.
The pattern is FREE on this website. To buy a downloadable PDF: Click HERE
Supplies
Loom: Medium or Large Round Loom. I used the green 36-peg Knifty Knitter
Hook: Any Loom Hook. I used the Knifty Knitter with a grip.
Yarn: About 75 yards of #4 Worsted weight. I used Red Heart
 . The color is Lemon
Cast-on:
I'm using the U-wrap because I want to tighten my stitches at the end.
A good alternative is the Chain Cast-on.
.
Brim:
Row 1 – 10: Knit 4, * Knit 1, Purl 1. Repeat from * to last peg.
Hat:
Row 11 – 16: Three Step Stitch
Rows 17 – 20: Knit 2, Purl 2
Cast-off:
Finish up:
Tighten the loose loops on the brim. This part is essential for the hat to fit correctly.
Weave-in the ends
Wet block the hat
Video: The Three Step Stitch
.
It's always a good idea to watch the video completely before starting the project. Please remember that video is ONLY for the stitch and not the Three Step Stitch Baby Hat.
.

.