Tiny Heart Stitch Hat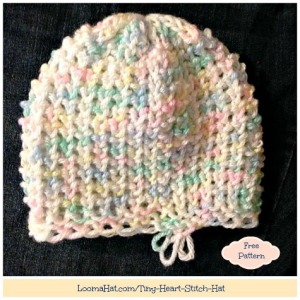 This Beanie style loom knit hat is a Free pattern for children and adults. Perfect as chemo cap because the stitch is dense, warm and comfy. I created this little hat to display the stitch when I wrote a post about it. I have been asked several times on this page and YouTube for the pattern.
I love giving my readers what they ask for when it's possible. This was a simple request that I fill with gladness. Hope you guys like it and send me pictures to include on this page and with the Facebook family
Para Español : Haz Clic Aquí 
The Pattern
The Pattern for the Tiny Heart Stitch Hat
Pattern is FREE on this website. To Purchase a downloadable PDF: Click HERE
Consider joining Patreon . For just $2.00 per month get all patterns posted each month.
Pattern Notes: This hat is made up of two basic stitches and one unique new stitch created by Theresa Higby. If you are not familiar with the stitch. I have a tutorial with pictures and a short video. Click HERE
For Adults: Use a 36-peg loom and increase the number of row on the hat to 30-35 or until you have 8 inches. For a slouchy look Use a 41-peg loom and increase the number of rows to 60 or more depending on how slouchy you want the hat to be.
Stitches: Knit, Purl, and the Tiny Heart Stitch . Knit with 1 strand of yarn.
Loom: For a Child's: 31-pegs. I used the Red Knifty Knitter , Adults use 36-pegs
Yarn: Red Heart Baby  Worsted Weight #4 in Candy Pompadour
Cast On: Chain Cast On
The Brim: ( Garter Stitch )
Row 1 Knit
Row 2 Purl
Row 3 Knit
Row 4 Purl
The Hat:
Rows 5 – 26 Tiny Heart Stitch
For Adults: do 30-35 rows or until you have 8 inches
Close the Hat:  
Rows 26-30  Knit 2, Purl 2 ( Double Rib Stitch )
Optional: Tie a string on the brim – create three loops and wrap around three times – tie a tight knot
Done !