Tube Sock on a Round Loom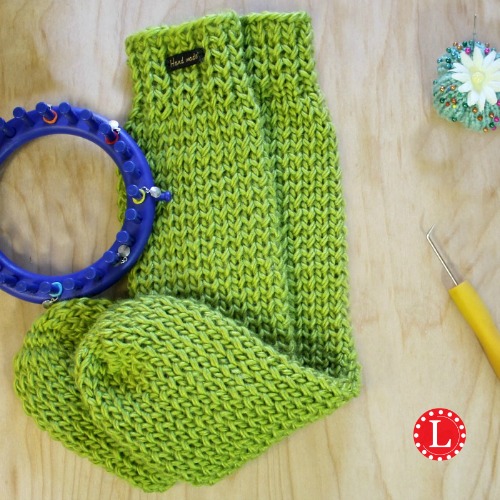 Tube socks are the best pattern for folks that really don't like knitting a heel or a toe. But why stop there, let me tell you what else is great. You don't have to knit a folded cuff, no specialty loom and no need to worry so much about the recipients shoe size. There are so many reasons why I just love this pattern. The fact that is looks so good makes it even better.
The combination of different knit stitches give the fabric a really cool, textured stitch. I believe this is going to be a favorite for lots of loom knitters, especially beginners.
SUPPLIES for Your Tube Socks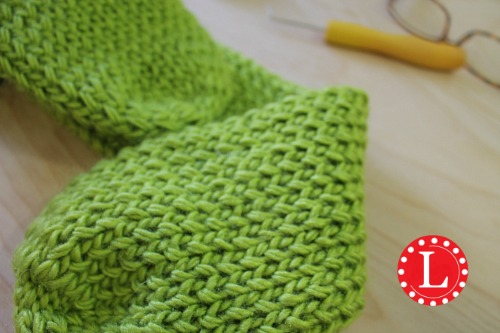 The list below is recommended options, feel free to use what you have on-hand, including small gauge sock looms. Since it's a tube socks, size is not a huge concern.
For your yarn choice I recommend using a wool blend. I like acrylic and wool, acrylic and nylon or a combination of these three fibers. Again, what ever you have on hand will also work well.
LOOM: 24-peg round loom
HOOK: Any loom hook – I use KB
STITCH MARKERS: Any type that fits your loom
YARN: 330 – 350 yards of worsted weight. I used Sheepish 
NEEDLE: Large eye – Blunt needle
BUTTON: Optional 
To Purchase a downloadable PDF: Click HERE
The pattern is free on the website. To support Loomahat.com: Click HERE
Pattern
Cast-on:
Draw-string cast-on all your pegs.
Leg / Foot / Toe:
Row 1: U-wrap Knit
Row 2: e-Wrap Knit
Repeat: Rows 1 and 2 until you have 80 rows.
Cuff:
Row 81: Purl 1, U-wrap Knit 2, until the end of the row.
Row 82: Purl 1, e-Wrap Knit 2, until the end of the row.
Repeat: Rows 81 and 82 until you have 90 rows.
Cast-off:
Super stretchy cast-off with a hack.
Close the Toe:
Pull on the drawstring until the corners round-out, but don't close the hole. Pinch the toe section to close the toe flat and sew using a whip stitch technique.
Weave in the Ends – Cut the excess yarn.
Tube Socks Video
Please watch the video completely before starting the pattern.
To Subscribe to the channel: Click HERE
.




.
Tagged: adult socks, loom knit socks, socks, tube socks