Yarn Giveaway December 2014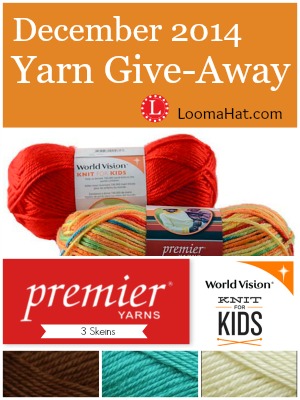 LoomaHat.com is giving away 3 Skeins of a very, very special version of Premier Yarns Ever Soft for Yarn Giveaway December 2014. I'm excited about this one. It's Yarn on a Mission !
Premier Yarns has partnered with one of the worlds largest humanitarian organizations to help collect 100,000 handmade items. According to the Premier Yarn Website :A portion of each purchase of Premier Ever Soft yarn goes to benefit Knit For Kids and their mission to provide warmth, hope, and joy to children living in poverty across the world . I thought buying and giving away 3 skeins of this very special yarn was one way of participating in this awesome campaign.
What else could I do? I could buy more yarn to add to the mountain I already have, knit a cute hat and Tell you about their efforts and how You Too can give to this worthy cause while you enter to win same cool yarn. And don't forget to share this link with your friends.
Note: I purchased the give-away yarn at my local AC Moore .
Winner Does Not Have to Use the Yarn for ANY Charity

First Let's Talk Yarn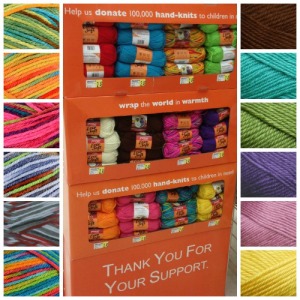 This is a silky, soft, thin worsted weight yarn with a hint of sheen. It comes in 36 solid and 9 multis colors.  I love the feel of the yarn. It reminds me a lot of Caron Simply Soft though its a smaller skein at 158 yards / 144.5 meters compared to 200 yards / 182 meters with the Caron.
Product Description According to Amazon
PREMIER YARNS-Ever Soft. This light-worsted weight; oh-so-soft acrylic yarn is perfect for all kinds of projects. It comes in a wide range of brilliant and lustrous colors with great tonal ranges so you can make stunning afghans; garments; and accessories for babies; kids; and adults!
Weight Category: 4. Content: 100% acrylic. Put-up: 3oz/85g; 158yd/144.5m. Knit gauge: 18st x 18r = 4in/10cm on US-8/5mm needles. Crochet gauge: 14sc x 18r = 4in/10cm on US-8/H/5mm hook.
Care: machine wash; tumble dry low; do not bleach; do not iron. Dyelotted–we try but cannot guarantee matching dyelots. Imported.
Product Dimensions: 2.5 x 6 x 3 inches
Shipping Weight: 0.8 ounces
ASIN: B008KH4GOQ
Colors in the December 2014 Yarn Giveaway will be:
I wanted to have a combination of a light, a neutral and a bright. I believe these three colors in a hat and scarf set would be beautiful and good for both a girl and a boy.
The Charity: World Visions Knit for Kids
According to their About Us page
Knit for Kids is a nationwide program that unites thousands of volunteer knitters to fight poverty with our knitting needles.
With every stitch, together we give hope and warmth to vulnerable children living in poverty or other difficult situations around the globe. For millions of children, a hand-made item isn't just a sweater or capor blanket, it's a chance at better health. It's protection and warmth from freezing temperatures. And it's a symbol of support for a better future.
NO DEADLINES – Items are collected all year round.
Mail your items to:
Knit for Kids

c/o World Vision
210 Overlook Drive
Sewickley, PA 15143
Enter to Win: Ends 12/21/2014
Note: You do not need to have a Facebook page to enter. Just use your name and email.
This DOES NOT put you on a mailing list. I need your email to contact you if you are the winner. Once this ends – your email is discarded.
.
a Rafflecopter giveaway
  ====================================================================