Yarn Giveaway June 2014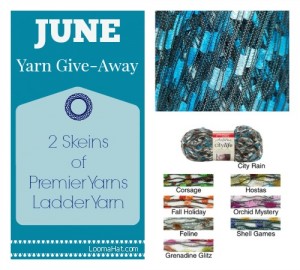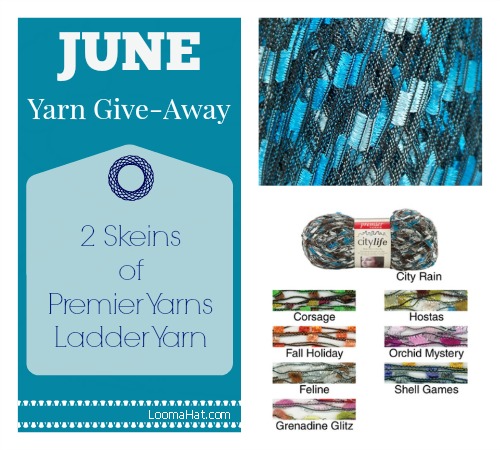 A cool choice for Yarn Giveaway June 2014 is Premier Yarns, City Life Ladder Yarn. Perfect for a light weight project. There is no sign of winter in the air but every now a then you need a thin cover for a late night stroll or a quick movie with some friends or your loved ones.
List of Color Choices: Click Here
The Yarn: Ladder Yarn

It's June and VERY hat here in Florida. Right now it's 89 degrees in the shade. Here is the perfect color for this beautiful ladder yarn. It's called Summer Garden and it has the awesome color of fun and sun.
Product Description According to Amazon
Product Dimensions: 2.5 x 6 x 2.5 inches ; 1.9 ounces
Shipping Weight: 1.9 ounces
ASIN: B00CB39D9I
PREMIER YARNS-City Life. City Life is a glitzy ladder yarn that is perfect for adding a touch of texture and glitz to any project. Work this delicate fantasy yarn on its own; use it as a trim; or make stunning accessory and jewelry pieces. Weight category: 4. Content: 64% polyamide; 23% acrylic; 13% glitter. Put-up: 1.75oz/50g; 158yd/145m. Knit gauge: 20st x 26r = 4in/10cm on US-8/4mm needles. Crochet gauge: 15sc x 19r = 4in/10cm on US-8/H/5mm hook. Care: hand wash; lay flat to dry; do not bleach; do not iron. Dyelotted–we try but cannot guarantee matching dyelots. Imported.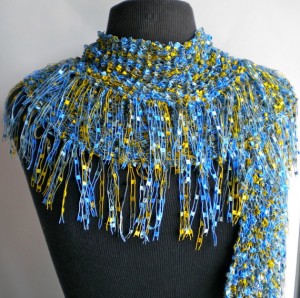 Shawls are Always in Styles
To the left is a beautiful creation by GrievousAngelDesigns . She has a great Etsy store with lots of items made with different types of yarns. This item , which happens to be my favorite is sold out but I'm sure she is willing to take custom orders. Good thing that wouldn't matter to you if you win the Yarn Giveaway June 2014 because you can just knit your own.
I would love to see this shawl in Premier Yarns color Shell Games
Please read the terms and conditions before entering the contest
a Rafflecopter giveaway