Yarn Giveaway May 2014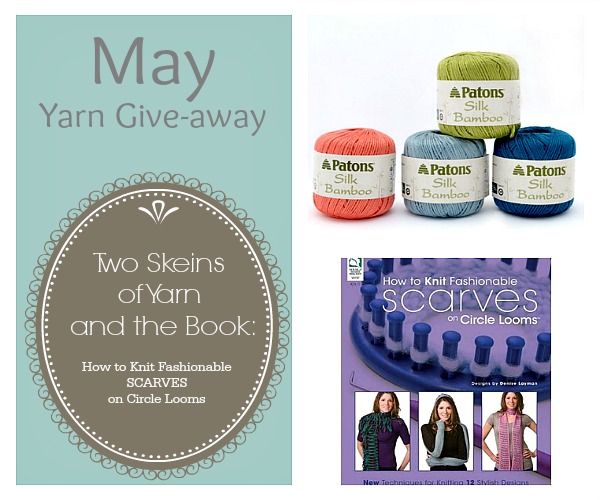 Yarn Giveaway May 2014 is two skeins of Paton's beautiful Silk Bamboo and the awesome book by Denise Layman, How to Knit Fashionable SCARVES on Circle Looms.
A book on scarves in the month of May when you live in Florida or any warm climate is a bit off I must admit. But for one thing many of you live in places where a scarf is not to much. Actually this gear is still in the front of your closet if only for a brisk night-time walk.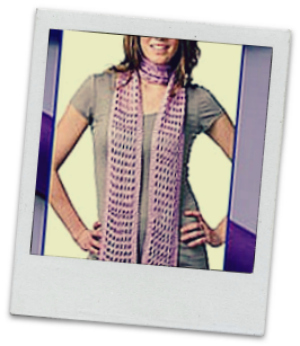 The book includes 12 really cool scarfs. Some perfect for cold to cool temperatures. But there is one in this book and that is the scarf on page 40 which I call Trans-Seasonal. It is a lace stitch beauty – that is light, airy and an oh so pretty in pink.
Among the list of materials is Silk Bamboo yarn. A great choice for a light scarf and Yes there really is bamboo and silk in this blend. As you can see in the picture is looks great over a nice girly sport t-shirt.
If you have never had a skein of bamboo silk to work with – you have missed out.
Paton does this blended yarn very well with gorgeous pastels and vibrant rich jewel tones at a reasonable price.
Now here comes your chance to try to yarn our for yourself for the great price of FREE. You just have to be the winner.  Well here is a little more corporate information on the yarn …
Amazon : Product Details
---
Product Description
PATONS-Silk Bamboo Yarn. This yarn is a luxurious blend of silk and bamboo for a marvelous drape; supple softness and an elegant sheen. The colors are vivid and on-trend. This yarn knits and crochets beautifully: stitched slide effortlessly. Weight category: 3; 70% Bamboo/30% Silk; 1.8oz/65g; 102yds/93m. Gauge 22sts x 28r = 4in/10cm on size 6/4mm knitting needles and G6/4mm crochet hook. Care: hand wash; dry flat; do not bleach; do not iron; do not dry clean. Imported.