Yarn Holder Bag – Pattern Video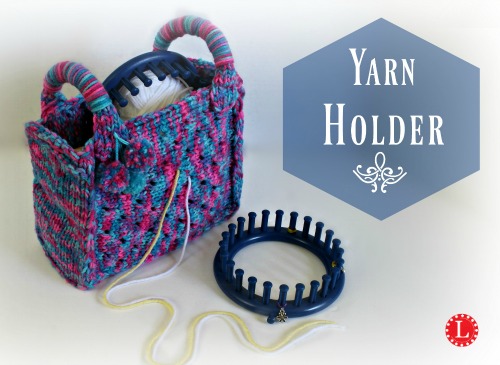 The loom knit Yarn Holder Bag is compact, super cute and very useful. Take your knitting on an adventure in the car, the arm-chair or on the walking path. Yes you can knit and be mobile.
The staggered eyelet stitch pattern works well in this project especially when knitting with two strands as one. Its keeps your two strands close by but separated by tiny holes.
.
Loom Knit Pattern Notes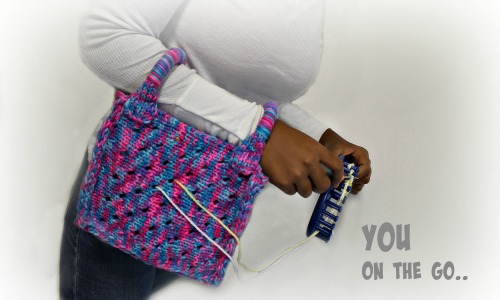 The Yarn Holder Bag pattern below was written for large gauge looms. The knit stitch versions are the U-wrap and the e-Wrap. The e-Wrap is included to facilitate the yarn-over.  When you reach that stitch unravel the loop before moving to it to the K2Tog peg. To do that just remove the loop with your hook then turn the hook in a circular way until you remove the twist in the loop. You will notice that the loop is now a bit longer making it easier to stretch it and place it on the peg next to it.
Always slip the first stitch.
You will knit flat.
The project is made up of 5 pieces:
1 front and 1 back, 1 connector, 2 handles. Pom-poms, buttons or wrapping the handles is optional.
To Purchase the Downloadable Pattern: Click HERE
Consider Joining Patreon . For as little as $2 get all patterns posted each month. With a higher $5 pledge you also get the downloadable video so that you don't need to be online to create your project. To join Patreon: Click HERE
Supplies Needed:
Loom:  Small 24-Pegs. I used the blue Knifty Knitter 
Yarn: 200-250 Yards of Worsted Weight (Knit with 2 strands as 1). Red Heart Super Saver in Grey Heather and Lagoon
Hook: Loom Hook . Used Knifty Knitter with a grip.
Yarn Needle: Any Yarn Needle
Stitches: e-Wrap, U-wrap, Purl  and the Staggered Eyelet.
Yarn Holder Bag Video
I always recommend watching the video COMPLETELY before starting the project. In this case it is particularly important. There are a lot of steps to complete and that can be a bit confusing.