Yarn Sleeve also known as a Yarn Bra or Tender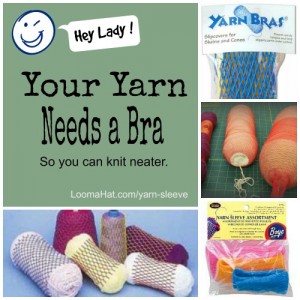 I had never heard of a yarn sleeve until a few weeks ago now every one of my skeins is sporting a new bra. The K1C2 brand package says, "Prevent unruly tangles and keep slippery yarns under control." I so totally agree, that is exactly what this product does.
It's funny that they seem them more like little girdles then sleeves or a bras. Maybe its the little curve that forms in the middle of your yarn. What ever the case it's settled that I can no longer live without God,  a cell phone, a computer, my adult sippy cup or a yarn sleeve , but not necessarily in that order except for God, he's always first.
There are several brands on the market. I chose three to try. They are listed in order of preference, with my very, very favorite being last. This is a strategic layout to make sure you make it to the end of my post. I don't want you to miss anything. I only do that to people I love.
What's So Great About a Yarn Sleeve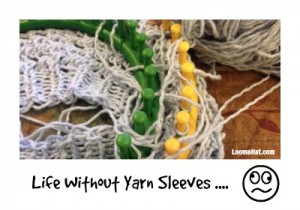 Strand Tamers to Better Store and Organize Your Skeins of Yarn
I don't have good organizational skills. To make matters worst I have ADD so I have dozens and dozens of half-finished projects because, "the mind wonders" and off I am to another great idea. Those half-done projects end up in a crate or bin. They get tangled up. Because I loom knit – my looms also get tangled. I need every available tool to help me keep things at least looking like they're neat. These little guys are just that, a super tool, a yarn tamer or trainer keeping those unruly strands in check.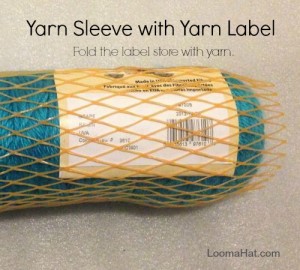 Store Yarn with it's Original Label – I LOVE This !
I was watching a YouTube video of Brenda Myers loom knitting a baby blanket and she said that she couldn't give us any details on the yarn because she had lost the label long before that project. I can so relate that happens to me a lot. I might be able to recognize certain ones that I use often but I'm sure I won't remember the shade. Sometimes that old label matters and sometimes it doesn't. For me it almost always matters because if I feature an item on the site I need to tell you the name of the shade.
So now when I get ready to use my new yarn, I take off the label put it to the side and put my skein in the yarn sleeve. When I am done for the day I fold the label and put it in the yarn sleeve right on top of the yarn. When I'm ready to knit a again I take the label out of the sleeve – put it to the side until am ready to put my yarn away. Then I fold my label, put my it in the sleeve with the yarn and store my yarn away. I hope that made sense.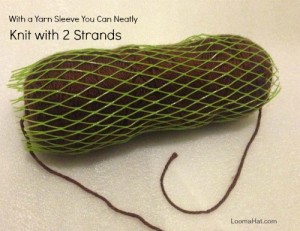 Knit with Two Strands !
The practice is very common with loom knitters that use large gauge looms like a Knifty Knitter, Boye, Darice or Loops and Threads. To avoid getting loose loops and large holes sometimes we have to knit with two strands as one. The Yarn Tender keeps the strands from twisting together.
The key is to pull from the top and the side. You need to find these before you put the yarn sleeve on the skein. Yes you can still pull your yarn from the side while you knit with the sleeve still on yarn. By-the-way, If you had the label in the sleeve, first remove the label before you start knitting.
New Yarn Stays Pristine 
When yarn is stored and it's rubbing against other yarns, tools and storage after a while it gets that worn out look. These tenders help keep some distance and less dust.
They work with your thread too.
The sleeves contract and expand to fix your jumbo skein of yarn or you short stubby thread skeins. Look at the picture to the right for some idea of what I mean.
What Brand of Yarn Sleeve is Best?
First I must say, I Like Them All. They all work well and do what they say they do. I just don't like them the same. I have listed them in order of preference, with the last product being my favorite. Note my prices might be based on my Prime membership although I doubt that there would be a big difference.
To Buy it
:
Click Here
  .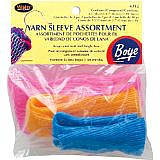 Boye
Price: $4.95 / Free Shipping Units: 5 Sleeves Pros: Pretty good. The set had assorted sizes. The colors are bright and happy. Stiff but not too much. Cons: A bit stiff Conclusion: I like them a lot. Would buy again if I can't get
BDYS
.
To Buy it
:
Click Here
  .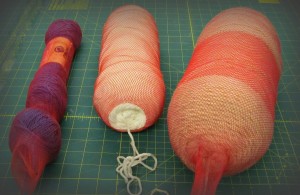 Best Darn Yarn Sleeves
Price: $12.50 / $4.49 Shipping Units: 20 Sleeves Pros: Very soft, Cheapest per unit price, Longer length, Great personal customer service Cons: Very soft – you need to play nice with them Conclusion: I will only buy this brand from now on. 
To Buy it
:
Click Here
.
Conclusion
I give The Best Darn Yarn Sleeves 5 Stars and a Snap. That name was tailor made for them
Here below is how Susan (Owner of BDYS), explains her product;
Keeps yarn from tangling from First pull to the Last; inserted yarn holds it shape throughout use of the yarn tender — while the size of the skein is decreasing as it is used up. Approx 14″ long; very soft and pliable; not stiff, easy on the hand.
Insert all sizes and shapes of center-pull skeins and balls
Gang the tenders for extra long skeins, and tangle corrections completed; no need to rewind an entire skein because of a tangle; see photos.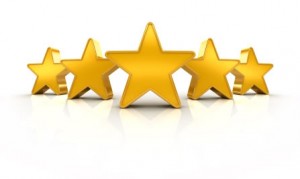 .
My Final Advise: Friends Don't Let Friends Knit Without a Bra
. .  
Enter to Win
Tagged: organization, product review, storage, yarn