How to Loom Knit a Hat – Start
To know to loom knit a hat first you should know basic loom knitting. This page helps you with a Looming Knitting 101 video. You learn the basic skill so that you can move to the next step which is making your brim
For a picture and text tutorial scroll down this page. Please follow the pictures from left to right, the written instructions can be found under each college. If you get stuck on one part of the project… feel free to return to that spot as many times as is necessary, you can leave your questions below or in the forum.
.



.
Supplies Needed: Circular Loom , Yarn , Yarn Needle, Hook, Scissors
—————————————————————————————————
The Optional Knot
Note: I don't use a knot when I loom knit. So when you watch one of my videos you will notice that I just loop the yarn loosely around the anchor peg and then release it once I have gone around the loom a couple of times. That is my personal preference. But if you are a beginner then I recommend that you use the knot until you figure out what works best for you.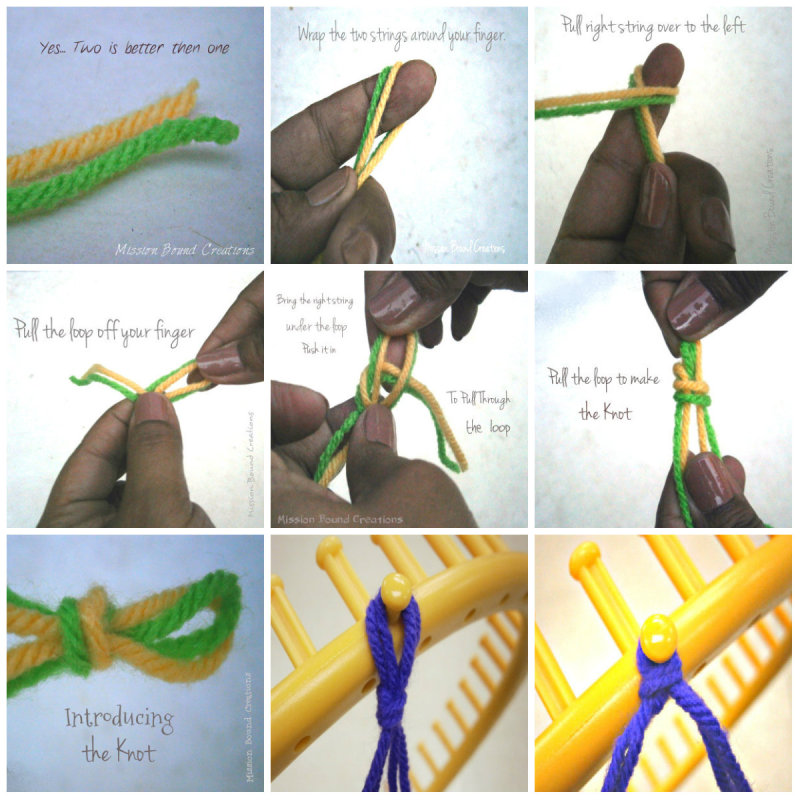 1. Start with two strands of yarn. This is best way to avoid holes and loose loops.
2. Wrap the yarn around your finger.
3. Cross the yarns over
4. Pull the loop off your finger
5. Bring the left yarn up behind the loop. Push the yarn through the hole
6. Pull the loop up to tighten the knot
7. Put the knot on the anchor peg. – Tighten the knot.
Now It's Time to Loom
The stitch that you will learn here is called the e-Wrap. There are many different stitches used to loom knit. However, to keep the site as easy as possible all the projects here are made using this one stitch or versions of it.
1. Find the anchor peg. It is where you placed you knot.
2. Start by taking your string behind the peg directly behind the anchor peg
3. Bring it towards the right then towards the front and wrap your peg
4. Bring the yarn behind the peg to right .
5. Repeat steps 2-4.
6. Go completely around the loom. Return to the first peg.
7. Start again wrapping the pegs counter-clockwise. Pushing the top row down a bit as you place the strands over the bottom.
8. Get your hook. You will find each peg has a dent. Rest your hook in the dent with the spike upwards. Pull the bottom two strings over the top two strings,
9. Then pull the two top strings and over the peg. Pull the hook out and the do the same for each peg until you have gone around the loom completely. When you return to the anchor peg you have completed one row.
Each row that you complete makes the knitting longer.
You now have a new decision. Do you make a brim or not? Like the knot, the brim is optional There are times when I will choose not to include one in my project. This is mostly for newborn hats.
But if you choose to go with a brim then…