How to Make a Brim
How to make a brim for you loom knit hat?  First, the brim on a loom knit hat is optional. There are projects where I would not make a brim on the hat. One example would be if I am making one for a newborn or preemie. Then. I prefer the softer feel of a brimless hat.
This page is a video, text and picture tutorial only for the brim.  If you missed the first steps of  loom knitting you can Click here. 
Otherwise,  let's get started! Please follow the pictures from left to right, the written instructions can be found under each college. If you get stuck on one part of the project… feel free to return to that spot as many times as is necessary or you can leave your questions below.
Click the image to purchase any of the supplies: 
How to Make the Brim : The Movie
Part 1

1. Decide the width of your brim. Measure your knitting. It should be twice the length.  I like my brims to be about 2 – 3 inches so I knit 4 – 6 inches because I know that I will be folding the knitting in half to make the brim.
2. When you've reached the desired length find the first row of knitting that you made.
3. It will usually curl a little. Grab one of the loops and pull from the inside up.
4. Find the closes peg
5. Pull that loop that is way in the back
6. Loop it over the peg
 Part 2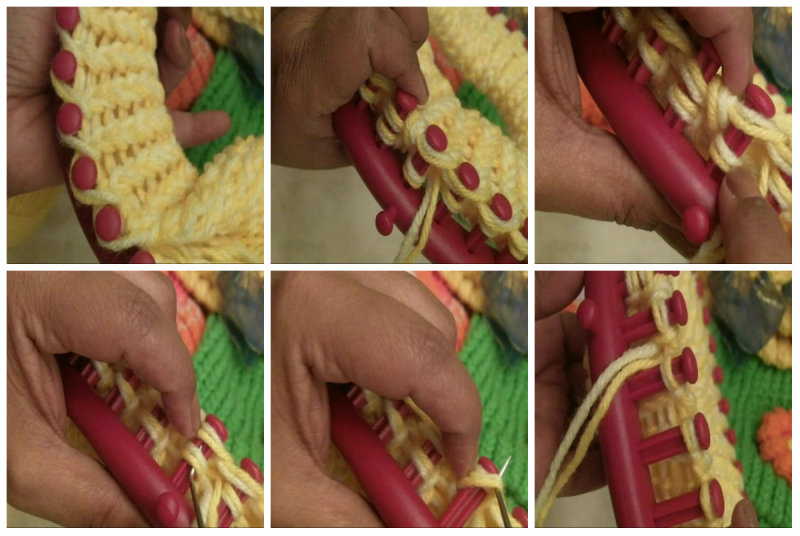 1.  Continue to pull all your loops over the pegs
2. You should have the same amount of loops as you have pegs. When your done you should have no left over loops and all your pegs should have 4 rows of string
3. You can hide the string you had around the anchor peg inside your brim ( optional)
4. Get your hook start from the peg right behind the anchor peg. Get your hook. Pull the bottom two strings over the top two strings
5. Pull the strings of the peg
6. Continue loom knitting. Once you have gone completely around – You made you brim!
Now you need to decide how long you're going to make you hat. It's ok to measure the person you will be making the hat for or someone comparable . If you like to count rows., each inch is about 3-4 rows depending on the thickness of your yarn.
Next Step is to Knit the Hat
Your Last Step would be to: Close the Hat
Another Brim
There are many different ways to make The Brim. Some are a bit more difficult but they look so great it's worth the extra lesson.
For a cool brim pattern
and to learn about a worthy cause : Click Here