How to Loom Knit a Preemie Hat – Video and Picture Tutorial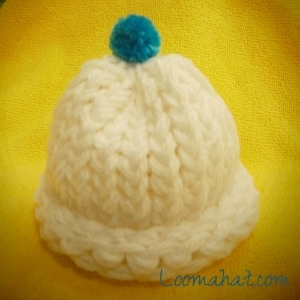 Learn how to Loom knit a preemie hat in minutes with a FREE pattern, video and text tutorial. Also works for newborn babies and some of the bigger dolls like American Girl. This is a very easy project and the returns are priceless. Whether you're making the little caps for your own babies or as a gift. You will find that once you learn basic loom knitting skills you can complete one of these in less than 30 or 40 minutes.I made an easy to follow video tutorial. It will show you everything you need to know from start to finish in one short watch.
Note that I don't knit the conventional loom knit brim for my newborn beanies. Instead  I allow the bottom to curl-up. This gives the hat the look of a loom knitted brim minus the harshness of a full double layered brim.

Supplies Needed :
24-Peg Round Loom, Yarn Hook, Baby Yarn, Yarn Needle, Scissors
Click the image to purchase any of the supplies:
.
About The Loom: Use a Small 24-peg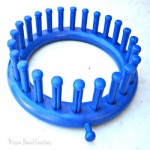 Don't get yourself stuck here. Any brand of small looms will work. You will see many different names , colors, shapes and  materials. I prefer the
Knifty Knitter small blue loom for a number of reasons,  none are essential to the project. I would say it's more out of habit than anything else.
Just look for a 24-peg loom. It will work fine even if it's a few pegs more or less.  Do not go to the next size up. The medium loom is much to big for a preemie or newborn baby.
About The Yarn: Use Baby Soft


There is yarn for baby knitting projects called, "Baby Yarn". Regardless of whether you're going organic or not  all brands have a Baby Yarn version. If you're not sure ask a sales person or look for an option on-line.
You want to make sure you don't spend all your time knitting to then find that the baby is not happy with your gift.
Baby Hat Size Chart
Baby Hat Size Chart

Assumes that knitter is using the recommended 24 peg loom, the e-Wrap knit stitch, Baby soft - worsted weight yarn and knitting with two strands of yarn as one.
Weight
Head
Circumference
Length of Hat
Number
of Rows
>1 lb
4 - 4 1/2
3 inches
12
1-3 lbs
8 1/2 - 9

3.5 - 4 in
13 - 16
3-5 lbs
11 - 11 1/2
4 - 5 in
16 - 20
6-8 lbs
12 -12 1/2
5 - 5.5 in
20 - 22
9-11 lbs
13 -14
6
24
Pattern: Loom Knit a Preemie Hat / Newborn Hat
Pattern Notes
Pattern based on the use of two strands of Baby Soft worsted weight yarn ( Any Brand ) . This hat is brimless
(Knot) Begin by tying or wrapping the end of your working yarn around the anchor peg on your loom. This is the 1 lonely peg on the brim of your loom. You can let it loose after you knit a row or two.
(Cast On) Going Clockwise – Wrap every peg twice (You should have 4 strands on each peg ).
Knit (E-Wrap stitch) With the Hook tool – Going Clockwise – Take the bottom two strands over the two top strands and behind the peg. Do this to all the pegs ( knit) When done that will complete 1 row. ( You should be left with two strands on each peg )
Pattern: Very Simple
Rows 1 – End : e-Wrap until you have completed 15 – 24 rows depending on the baby. See size chart
(Close Hat) Finish the hat using the gathering method.  For more information : Click here
.
Loom Knit a Preemie Hat: The Video
To Add a Brim
If you still want to give you baby hat a brim then watch the video How to Loom Knit a Hat. It will show you how to make the brim. You can also read the instructions: Click Here
.
Custom Size Your Hat: How Many Rows ?
To answer the question of how many rows of knitting I can give you a generic number such as 12 or 15. There is a method that is more customized. Here is a video to give you details.
.

Matching Baby Booties
If you loom knit a preemie hat: loom knit baby booties. I have also made a video for the baby booties. You can make a match. You will have to alter the pattern a bit and use the spool loom instead of the flower loom to fit the tiny feet.
.

Do You Want to Add Ears?

Adding ears to your baby hat is VERY Cute. The hats above were made by Knitting Rays of Hope. Scroll down to see more cute hats made by this league of loomers and a link to their blog. For the ears…..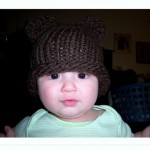 Erin from Connected2Chirst.com  has a really good tutorial for making the Ears (Bear, Monkey , Mouse) for your hat.
She even includes 6 pictures to help you do the job right.
To Visit Erin's Blog : Click Here
Consider Some for Charity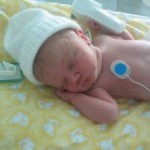 Now that you know how to loom knit a preemie hat make some for a charitable organization. There are several listed on this site. Note that it is still a work in progress. You can also consider you local hospital, shelter, church or temple.
These little treasures are desperately needed and are so cheap and easy to make. Once you get the hang of it you can churn out a little newborn hat in less than 30 minutes while you watch t.v., listen to music or just hang out in your living room.
Do some research on-line or click this link for our page:  Charity
===========================================================================
===========================================================================
How About Cute Baby Hats  – Visit Knitting Rays of Hope
These folks focus on loom knitting hats for little cancer patients. To cheer them and their parents up.  I think this is a great way to use your loom to make someones days a little brighter.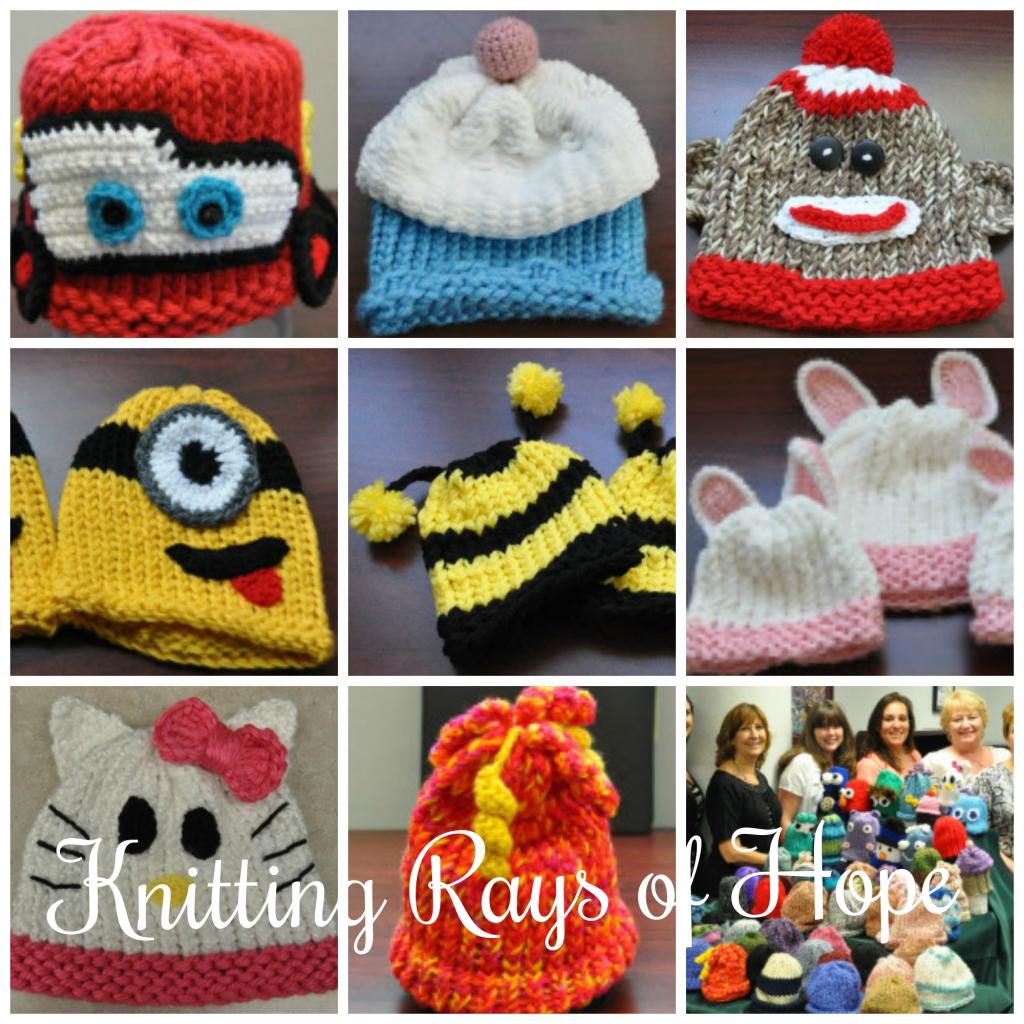 Tagged: baby, baby cloths, baby projects, beanie, cap, knit, loom a hat, loom knit preemie hat, loom knitting, loom knitting video, looms, newborn, video