Loom Knitting Stitches Guide
I have been researching loom knitting stitches to put together a comprehensive list. While onIine I bumped into a guide in a downloadable pdf format. It was written by Isela Phelps, author of  "Loom Knitting Primer", Amazon's best selling loom knitting book, pattern designer,  online moderator and blogger.  If you like to loom knit you know that this lady is a loom knitting genius.
She is also generous  and in her generosity she has given us loom knitters the gift of this great resource. I can't believe it's free! It has such easy to read instructions. Personally I love the diagrams of the  stitches which I can follow so much easier than a written list of procedures.
Download the Guide
The guide is in a pdf format so you can easily print and keep a hard copy. Like having your own free book. I put my in plastic page protectors so that I could share it with my students.  If you don't have the ability to download in this format there is a free download available through Adobe. If you need this: Click Here  and look for the Reader. If not, just lick the picture of the cover below the list of stitches for a link.
The stitches included in this Loom Knitting Stitches guide are:
Box 
Basket-weave
Diagonal Rib
Double Moss
Garter
Moss
Rib
Zig-Zag
Note: That the cover says Guide I and so the only obvious conclusion is that there is a Guide II. Well, I have searched the web to exhaustion and have not found that second part. If anyone knows what the web address is please share it with us in the comment section of this page.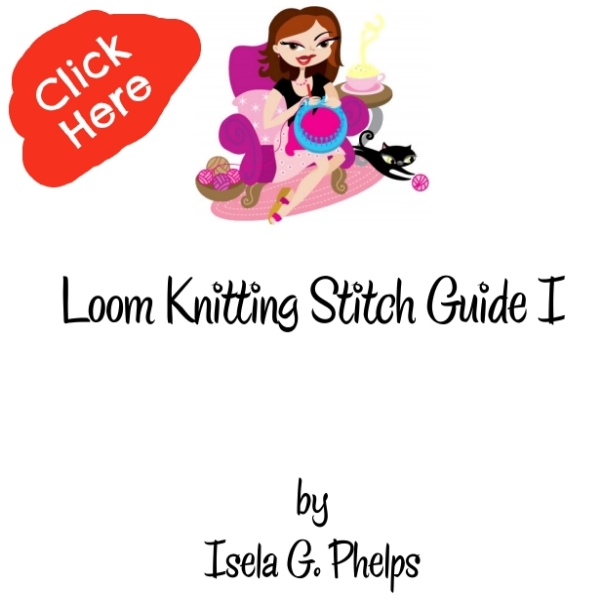 Start using the loom knitting stitches guide with these great books by the author.
You'll learn how to make some really awesome stuff. The stitch guide  gives you a head start on a lot of the patterns. The books that say " LOOK INSIDE", give you a sneak peak of the content and what kinds of projects you can expect to find. I have great appreciation for this feature.
.

Name of Stitches you've always wanted. Am sure that like me everybody has had a stitch they wanted to learn but couldn't ask for help because they didn't know the name. I have seen so many beautiful hats and scarfs where the knitter just takes a picture but never tells you Anything about how to make the darn thing. If they would at a least give you the name of stitches you would be one step closer.
Well while trying to translate a stitch from Spanish to English I pumped into this website called Knittingfool.com. WOW.
To Read More :Click Here
=========================================================================================


=======================================================================================
Tagged: stitches