Loom a Hat:
The Easy Way to Knit a Hat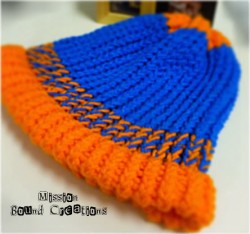 Loom a Hat easily. Round Loom knitting is fun and almost fail-proof for people of all ages and of all knitting capacities, even with zero knitting experience or capacity. You need very basic, simple skills. If you can pull two strings with a hook you don't need to know much more. That is the most important part and the one technique you will do the most.
I learned to loom a hat at a Joann Fabric store product demonstration. In less than 10 minutes the Knifty Knitter
representative had taught me the first two basic steps needed to loom a hat. I didn't even have time to learn how to close the hat, I had to figure that part out at home with the little booklet that comes with the Loom Knitting Kit .
Don't worry if you don't learn it in 10 minutes. I'm almost sure you don't have a learning deadline. Take your time The awesome news is that once you know how to loom a hat all the other projects on this site are just minor adjustments of the first. You'll be off making more than just hats, everything from booties to pillows and from dolls to doll dresses. You have my promise that all will be fun, simple and quick.
Scroll Down for Size Chart, Pattern , Picture , Text and Video Tutorial
.
I always suggest watching the video completely from beginning to the end before starting the project.
Supplies Needed
.
The supply list is made up of 4 Must Have Items and 2 optional . A loom, yarn, hook and scissors make up the first group. Yarn needles and crochet hooks make loom knitting easier but are not vital.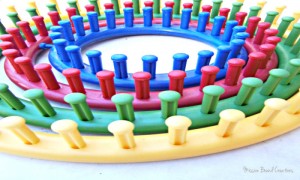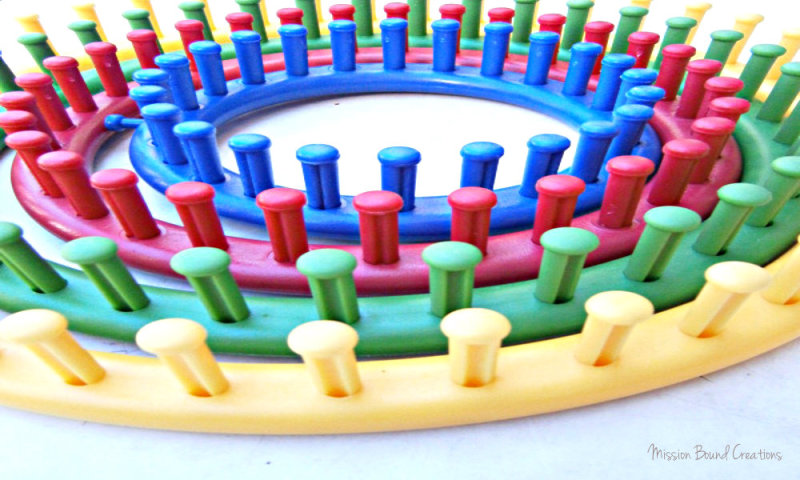 Note on Supplies:
The Loom: Check out the Loom Size Chart below to make sure you start with the correct loom.
The Yarn: I prefer the soft worsted weight yarn. It's thick, making the work tighter and quicker.
The Hook : Should be included with the Loom Set.
Yarn Needle:  Like the hook,  Should be included with the Loom Set. You shouldn't need to buy these separately. I buy my needle separately because I prefer the Susan Bates over the one included.
Crochet Hook: I will sometimes use these to help close the hat or to feed yarn through the knitting.
Click the image to buy any of the supplies listed here:
Loom Size / Hat Size
Size Chart is based on Averages. The information is only a recommendation. Please use your own judgement in the final decision.

Note: Rows are based on 1 strand of thick yarn or 2 strands of light or medium weight yarn, e-Wrap Stitch and No Brim.
Chart Update: 10/2014
For a Folded Brim you may need 6 - 18 rows depending on the recipient. Note that to make the brim you fold the knitting in half.

1 inch = 2.54 centimeters

Hat Recipient
Avg Head
Circumference
Loom Size
Hat Length
Number
of Rows
AG Doll
11 in / 27 cm
Sm 24 Pegs
4 in
20
Preemie
12 in / 30 cm
Sm 24 Pegs
4 - 5 in
20-25
Newborn
14 in / 36 cm
Sm 24 Pegs
5 - 6 1/2 in
25-30
Baby - 1 yr.
18 in / 46 cm
Md 31 Pegs
7 in
25-30
Toddler
21 in / 53 cm
Lrg 36 Pegs
7 in
25-30
Tweens & Teens
22 in / 56 cm
Lrg 36 Pegs
8 in
30-34
Women & Lean Men
22 in / 56 cm
Lrg 36 Pegs
8 - 9 in
32-40
Lrg Women & Men
24 in / 61 cm
X-Lrg 41 Pegs
9 -10 in
38-45
Note Before Starting:
Leave a 1-2 inch tail on your working yarn for a slip knot.
Size: My formula for rows using my recommendation: worsted weight yarn and knitting with  2 strands as 1 –  is 3 stitches and 4 rows for 1 inch of knitted fabric.
So before you start decide on the size of your brim and the size of the body of your hat. This will help you get a custom fit which is why we knit instead of shop.
Loom a Hat PATTERN:
Pattern is FREE on this website. For a Printable Version of This Pattern: Click to Purchase a PDF
Use worsted weight yarn. Two strands of yarn as One. If you use chunky yarn you can knit with just one strand.
1. Make a (slip) Knot:  Place it on your anchor peg. ( the lonely peg outside of rim your loom )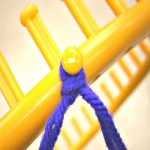 2. (Cast on) Wrap all the pegs twice: This should give you 4 strands per peg.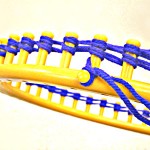 3. Knit (e-Warp stitch) With your hook – flip the bottom two strands over and behind the top two. Continue around the whole loom.  You will be left with two strands on each peg.


Note When you have looped all the top loops on the peg and are back at the anchor peg  You finished 1 row ! After 2 or 3 rows you can release the working yarn from the anchor peg.
4. Repeat steps 2 and 3 until you have your desired length.  Average adult is 32 rows.  A good rule to follow when working with 2 strands, knit 4 rows for every 1 inch of length.
See the size chart above for length.
If you want a Brim ( Scroll down for pictures )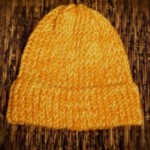 This happens at the beginning  When you start your hat – knit twice the length (height) that you want for your brim. Then fold your knitting from the bottom. Grab the bottom row (should be a bit curled up) place a loop on each peg. Then with your hook (Knit)  – flip the bottom two strands over and behind the top two. Continue around the whole loom.  You will be left with two strands on each peg.  Now you can start knitting the hat using steps 2-4 . On a personal note: I like my brims to be 2 inches so I knit 16 rows. My formula is 4 rows per inch. The brim is folded so you have to double the number of rows. – I do not put brims on Baby Hats.
To Close the Hat ( Scroll down for pictures ):  (Gathering Method)
Using your working yarn wrap around the loom until you are at the half-way mark and cut the yarn or measure out about 12 to 15 inches and cut the yarn.  Thread your yarn needle with that yarn tail. Feed the needle through the first peg. Lift the yarn loop off the peg using the needle. It will gather to the side of your work. Continue all the way around the loom repeating the same task until your work comes off the loom. YOU'RE DONE!
Loom a Hat:  Start by Watching the Video From Start to Finish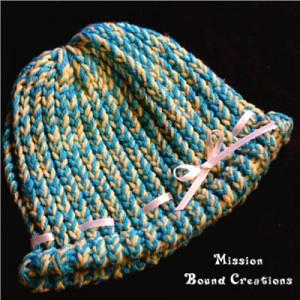 I recommend that you start by watching the video from start to finish before even gathering your supplies. Most people learn by watching some one else go through the process. Don't be fearful that you don't know loom knitting jargon. I only use regular everyday words in explaining the process.
If after you watch the video you still feel that there is a part of making the hat that is not quite clear don't worry, you're not alone. Most people feel the same way. That is why I have divided the Loom a Hat lesson into three parts, not because of difficulty but for reference purposes. Some people will get stuck on just one part of the process and the loom a hat 3 part method  makes it easier to focus on just the problem area without needing to repeat the entire process. The three parts would be, Start the Hat,  Make the Brim,  Close the Hat.  You may be asking what happened to looming the hat, well that's here. The others are for review.
First Steps to Loom Knitting
Start the Brim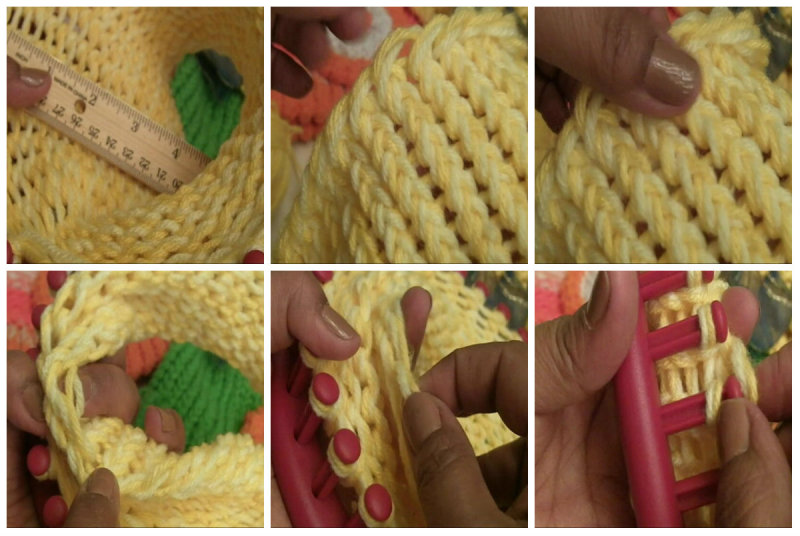 Finish the Brim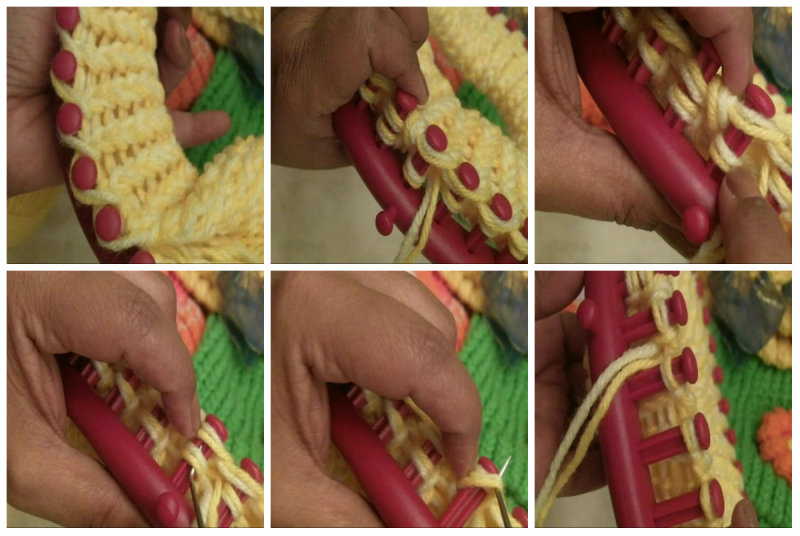 Finish Hat
Part 2 of Closing the Hat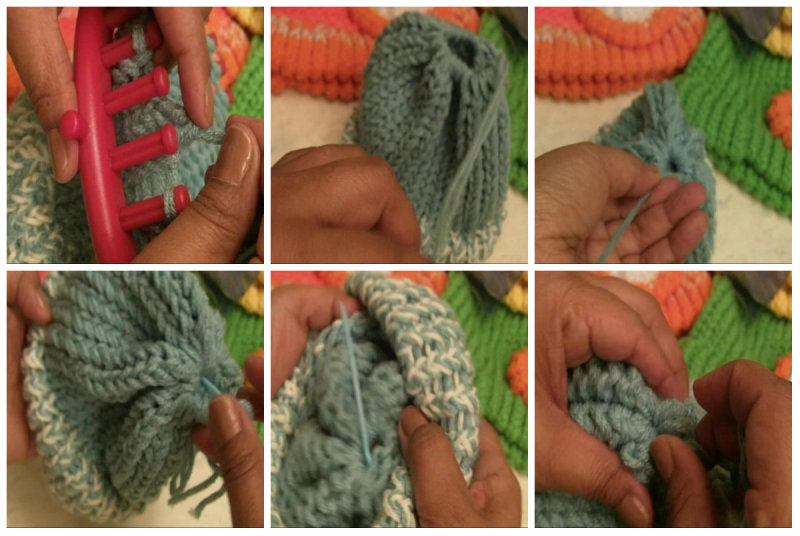 Close the Hat
Use the Links Below to Review any Part of the Loom a Hat Project
Below are pictures of projects made using the simple loom knit hat as a base. The gallery will be updated regularly so come back often to see what's new. Better yet subscribe to this blog for email updates on loom knit projects, tips, and ideas.
Some of the Projects You CAN Make

 Loom Knit a Doll Dress ……..  Loom Knit a Doll …….  Loom Knit Baby Booties…….  Loom a Hat-Easy
I hope to give you the necessary tools to help you feel confident that you have the ability to make many fun and practical projects with just basic loom knitting knowledge.

If you feel brave and you want to try some more hat patterns that are a bit more complex but still lots of fun. Click Here or Click the picture below for a list of FREE patterns. The table is update contently.
Feel free to give me feedback and to share your personal ideas for loom knitting.
denise
.
Cute Baby Hats – Click the Picture for More Information and Free Pattern Links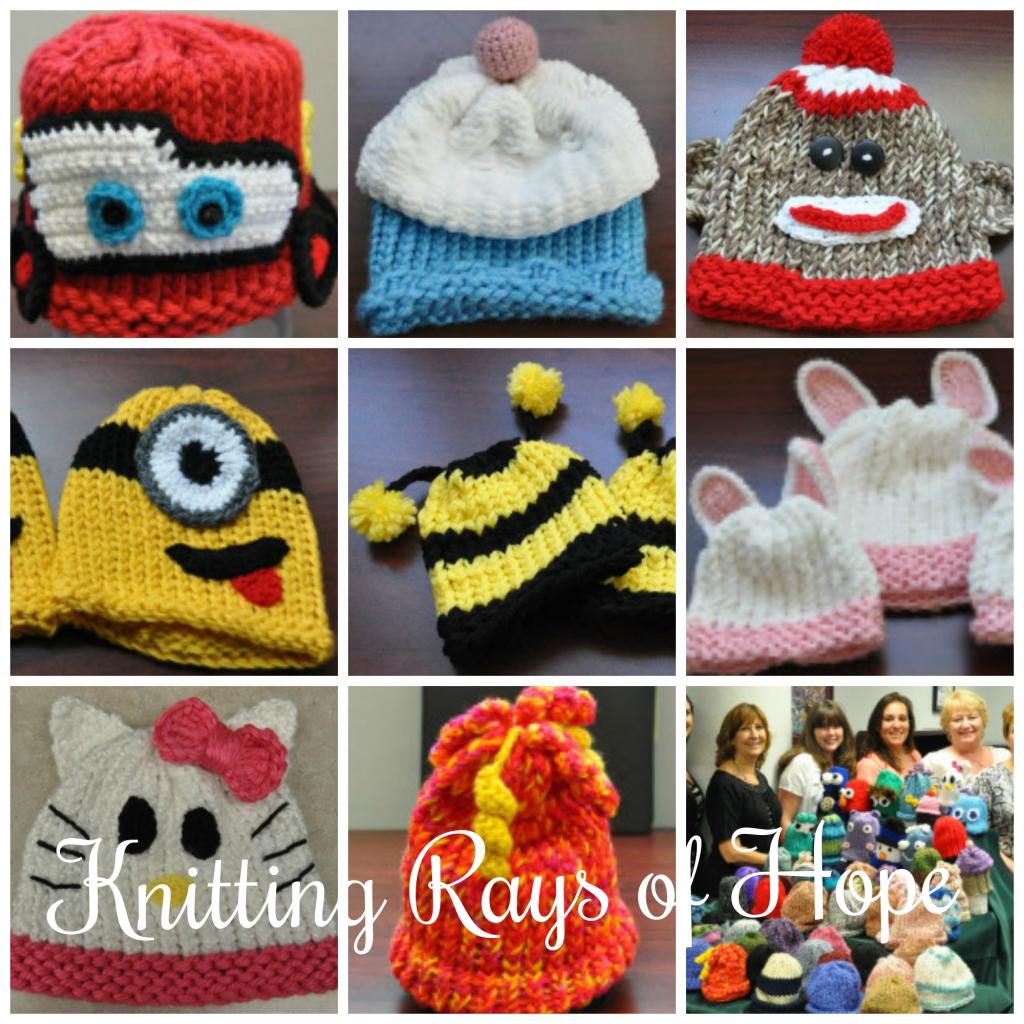 ==============================================================================
The ads below are generated by Google and are not a LoomaHat.com endorsement. They are here to help cover cost and keep this website and all of it's content FREE to you.
Check it out – you might find something you've Always wanted.
.




.