Learn How to Close Your Loom Knit Hat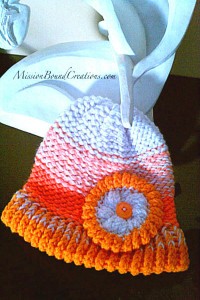 A lot of folks find themselves stuck here. I did. I first learned with a sales rep at a Joann's Fabric demo. I never learned from her how to close the hat. I had to read it from the little book that came with the kit. I HATE reading instructions. But I  learned. Now I'm here to teach you.
The skill  is an incredibly important part because you will use it again and again and again with other projects. Learn it well.
This page is a text and picture tutorial only about closing the hat.  If you missed the first steps of  loom knitting you can Click here.
 For a Video Tutorial on Closing the Hat: Scroll to the Bottom of This Page
.
Otherwise,  let's get started! Please follow the pictures from left to right, the written instructions can be found under each college. If you get stuck on one part of the project… feel free to return to that spot as many times as is necessary, you can leave your questions below or email me at denise@loomahat.com
Happy Looming !
Supplies:  Circular Loom ,  Yarn , Yarn Needle, Hook,   Scissors
—————————————————————————————————
 Part 1
1. Measure your knitting and make sure that your hat is the length that you want.
2. Take your working string and pull almost completely around the loom.
3. Cut your string
4. Thread a yarn needle
5. Every peg has an indentation. Rest your needle in the indentation and pull your needle up through the loops on the peg.
6. Use the string to lift off the loop
Part 2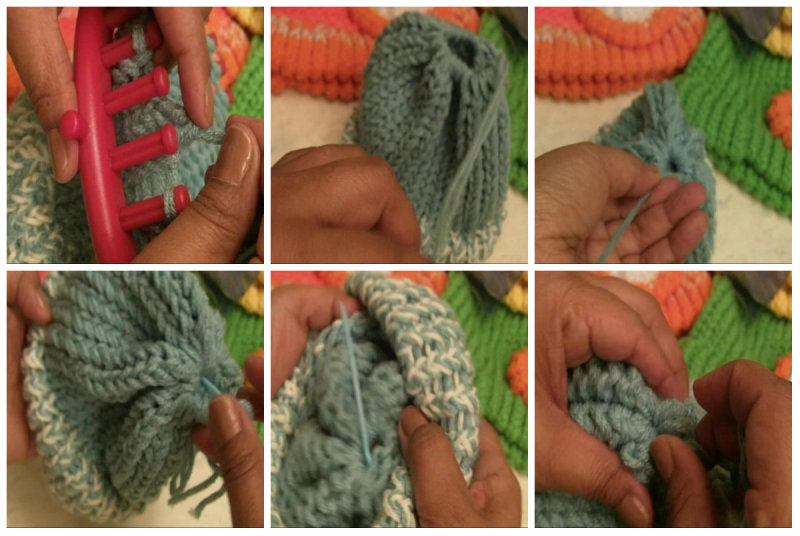 1. As you pull the loops off – gather them to the opposite side.
2. When all the loops are off the loom and your hat is FREE ! you will have a long string left over.
3. Pull that string and with two fingers roll down to help close the hole.
4. Push you needle through the hole
5. Turn your work inside-out.
6. Start sew the hole shut
Part 3
1. Use basic sewing to close the hole.
2. Make sure you get the edges.
3. Tie a knot
4. You can turn your hat back outside-in. Note: I don't most of the time. I happen to like the hats inside-out.
5.  A little note to read
6. Something I made with to simple hats like the ones you just made.
How to Close a Loom Knit Hat Video
.
If you want an Easy to Follow  Full Video Tutorial for a Hat from Start to Finish
.
.




.