Round Loom: 100 Projects with Free Patterns
100 FREE Round Loom Knitting Projects by 2014  is certainly a labor of love. Because I know I can't do it alone I am asking for help from other Loomers . This will allow me to give you folks cool easy projects  and  introduce or reintroduce you to great sites and awesome loom knitters.
Here is the story behind the challenge. I was teaching a beginners Round Loom knitting class during a warm South Florida weekend. One of the ladies asked me if she should spend her money buying more round looms. What kind of stuff could she make.  I thought about all the things can be made on a round loom. A simple  knit hat, scarves,  bracelets, umbrella holders, ties and belts can be made using circular looms. She was shocked to discover that not all the finished work had to be round. You can get a square from a circle. I think a kinder-gardener would freak-out if you told them.  A square peg in the round hole. Well let's not get distracted with that subject..
I told her there was an endless list of projects that could be made when you consider all the sizes and brands of looms available. All the different textures of yarn. My head went to spinning. Picture The Exorcist, no better yet don't. I want you thinking pretty thoughts here.
Continuing with the story, my thoughts and ideas about patterns for circular loom knitting were running at a 100 miles an hour. I have mild ADD so for a few minutes I even forgot that she was standing right in front of me. I figured I should be able (along with a few friends), to come up with at least 100 circular loom knit projects with free patterns.
Some of the projects and/or patterns are mine, others I hope will be offered. A few will be included because I asked another Loomer for permission to share and he or she agreed. Several are included just because I REALLY liked them. If your work is here and you want it removed just email me denise@loomahat.com and I will take care of it immediately.
Click the picture for a link to the website and in some cases you may need to do a little search for the pattern. I hope you find something to take with you from this page and please leave the knitter that was nice enough to give their talents for FREE a nice Thank you comment on their website comment section and if you'd like you can come back and leave feedback about your experience here.
Now …..
Circular Loom Challenge : The 3 Rules
1. Project has to be Loom Knitted, Weaved or Looped
2. Made using a Round Loom
3. Easy
If you want to Share a project you can  – In the Comment Section
 Tell me what the item is and give a Link or email me the information to denise@loomahat.com. 
Your project picture  will be displayed In the Photo Gallery below and will link back to your website.  For those that Participate by sharing your awesome creations : Thank You!!! ! !
Project Count : 103

Note about buying a loom:  If you  are new to loom knitting, got inspired and want to try making some of the projects on a round loom  then go Buy One ! There are several brands to consider. I use the Knifty Knitter brand. There is the Boye brand and the Darice. I find that there is little difference between them. The gauge, which is the space between one peg and the one next to it are almost the same on most of the plastic mass produced product. Unless you're going to use a high-end, natural wood, hand-made loom, you won't be able to tell the difference between most of the mayor brands. Just get one that fits your budget and don't worry too much about the rest.
I will tell you that the most recognized and most widely used brand of looms is the Knifty Knitter.  I would safely say that more the 2/3 of the patterns you will find here were made with this loom in mind. If you plan to only own one set and want to get the most bang for your buck that is the name to remember.
The Photo Gallery
.


.
Click on the Pictures Below for a Link to the FREE Project Pattern
For Patterns 61 -103 : Click Here
.
.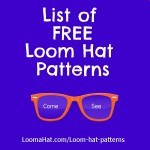 For a List of Over 85 Free Hat Patterns
I have put some hat patterns in this list, but just a few. You will find a lot more on a chart of free hat patterns I created. After all the name of the site is LoomaHat.com. I will update this list every time I find a new hat on the internet that includes a free pattern and will try to work on a hat pattern of my own at least once a month. I can't make any promises with a husband, two kids and a dog everyday is a surprise.  I'm sure many of you can relate.
.
Click for FREE Hat Patterns Only
.
.
Some of My Favorite Books
I am listing just 3 of my favorite books here. I like them for different reasons. The first is a thin book but the content is really cool. All have easy and difficult projects. The good thin is that they are labeled accordingly. That makes choosing a pattern easy for beginners.
If you are a beginner browing through the pages of one of these book don't get discourage if some seem almost impossible. Look up the stitch or term in Google or Youtube for help and remember that practice makes perfect.
==============================================================================
The ads below are generated by Google and are not a LoomaHat.com endorsement. They are here to help keep this website and all of it's content FREE.
Check it out – you might get something you've Always wanted.
.



.